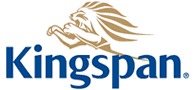 Company Profile
Kingspan Insulation is a world leader in innovative thermal insulation products.

Kingspan Insulation is a market leading manufacturer of innovative ultra-thin flexible insulation products and super high performance rigid insulation products for building fabric and building services applications. Kingspan Insulation is committed to providing the world market with high quality, innovative products supported by technical expertise and customer service which is unsurpassed in the industry.

Kingspan Insulation has a vast product range including super high performance rigid Kooltherm® insulation; flexible fibre-free reflective insulation AIR-CELL®; high performance rigid Therma® insulation*; and high performance rigid extruded polystyrene insulation*. The extensive range of products is suitable for a variety of applications including:

• pitched roofs;
• flat roofs;
• tapered roofing systems;
• cavity walls;
• solid walls;
• insulated dry lining;
• timber and steel framing;
• externally insulated cladding systems;
• externally insulated render systems;
• floors;
• soffits; and
• ductwork in building services applications.

Kingspan Insulation
1300 247 235
Malaga, WA, 6090
* If you would like to update the text on your profile page, please contact Spec-Net.