Adjustable Hand Levers with Optional Tips from D&D Barry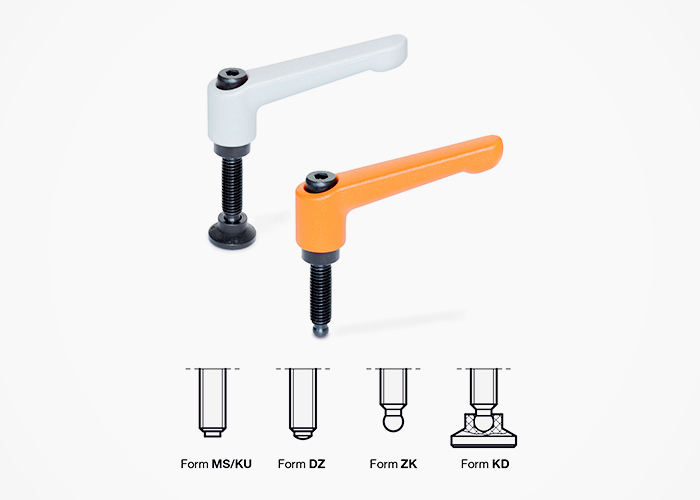 D&D Barry proudly presents Elesa+Ganter adjustable hand levers with highly adaptable tip options. These hand levers are excellent for those requiring a wider range of configurations and lever choices. In particular, the GN 300 range by Elesa+Ganter boasts the ability to be disengaged once securely clamped, and swiveled to an optimal position. They are ideal for use in confined spaces and where lever positions are predetermined.
Furthermore, Elesa+Ganter adjustable hand levers from D&D Barry provide the freedom to select your preferred tipped stud. For example, their GN 306 allows for;
Brass or plastic tips (types MS/KU) to minimise damage where typical clamping may otherwise be too forceful.
A hardened oval tip (type DZ) with a clearly defined pressure point.
Spherical ends (type ZK) that can be used for alignment.
A spherical end with swivel thrust pad (type KD) for even distribution of pressure over a larger surface.
Adjustable hand levers with optional tips with Elesa+Ganter from D&D Barry are also available in three different thread sizes: M6, M8, and M10. For more information, visit www.ddbarry.com.au.