Modular Roller Tracks by ELEROLL from D&D Barry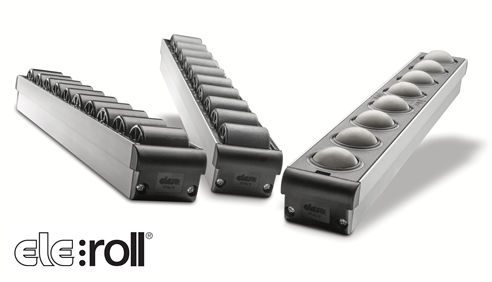 ELEROLL Modular roller tracks system
ELEROLL roller elements allow to create easily and quickly sliding and containing roller tracks for idle handling, suitable for several applications in different fields, such as: feeding and discharging benches in construction machinery, storage and picking systems, packaging machinery, plates and panels handling.
The range offers roller elements made of different materials and dimensions. Black polyamide based technopolymer (RLT-U-PA), which guarantees high load capacity; grey anti-scratch and anti-trace thermoplastic polyurethane (RLT-U-TPU), particularly suitable for handling delicate materials such as glass.
Elesa+Ganter has recently introduced ELEROLL roller elements (RLT-U15) with reduced roller diameter ø 14,5 mm in addition to the already existing series (ø 25 mm). The smaller diameter of the rollers allows packages with reduced weight and size to slide smoothly and consequently to generate less vibrations and lower noise improving the safety conditions for the operators.
Ball elements, for omnidirectional handling (RLS-U), made of white acetal resin based technopolymer complete the line. This solution is suitable when objects need to be rotated by letting the operator standing on the same side or when they need to be moved omnidirectionally.