Clamping Levers Sydney from D & D Barry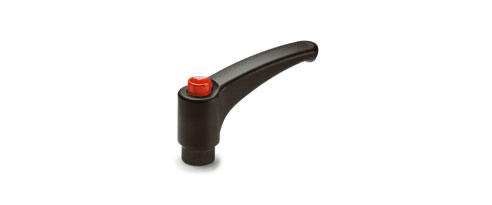 Lever Body
Glass-fibre reinforced polyamide based (PA) technopolymer. Resistant to solvents, oils, greases and other chemical agents.
Colour
Grey-black, matte finish.
Push Button
Technopolymer in Ergostyle colours, glossy finish
Standard Execution
Glass-fibre reinforced technopolymer clamping element with retaining pin, black colour, with knurling on the protruding part to make initial tightening easier. AISI 302 stainless steel return spring. Brass boss, threaded blind hole.
Features & Applications
Particularly suitable when the lever turning angle is limited owing to lack of space
Compared to other types of adjustable handles with metal retaining screw this solution offers
Absolute electric insulation for the operator's hand
No visible steel parts subject to rust
More comfortable lever release