Self-Closing Spring Hinge from D & D Barry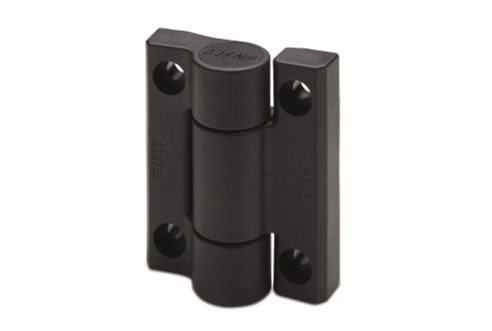 D & D Barry are proud to supply the brand Elesa+Ganter. Elesa+Ganter offer a wide range of hinges, that are made out of engineering plastics, steel, stainless steel, aluminium or zinc-alloy and with different types of assembly, rotation angles, load resistance values or with integrated safety switch. By having a wide range of variants in production, allows customers to choose the suitable hinge for their application whatever the market sector.
The brand new CFMR spring hinges enrich the range of plastic hinges. In fact this new technical solution allows the automatic closing or opening of doors, thanks to an integrated return spring housed in the rotating pin.
CFMR body is made of SUPER-technopolymer one of the latest evolutions in engineering polymer materials characterised by high mechanical and thermal performance.
A new technopolymer combining favorably the advantages of engineering plastics with metal ones.
The aluminium rotating pin and the stainless steel return spring guarantee maximum wear and corrosion resistance.
To suit at the best different applications, the hinges are available in different standard executions with opened (CFMR-NO) or closed (CFMR-NC) return position and with spring with different stiffness corresponding to different maximum return torque (0.35 Nm and 0.70 Nm).