DécoR Stone's latest landscape project using natural Australian pebbles
Non-presence of water is becoming the central ingredient in a landscape. Given current water restrictions, water conservation is a critical concern. One of the latest landscape projects which DécoR Stone (Aust) Pty Ltd supplied with Australian natural pebbles shows that home owners do not need to give up beauty as a result of the lack of water. This landscape project, dubbed as 'the tennis court transformation' illustrates that dry landscaping is the ideal way to make a landscape practical and unique, while utilising minimum water restrictions.
In an attempt to minimise water usage, Vermont resident Geoff Iles has transformed his tennis court into a Xeriscape landscape; a quality landscape that conserves water and helps guard our beautiful yet fragile environment. In Australia this concept is fairly new, while the tennis court transformation is one of a kind.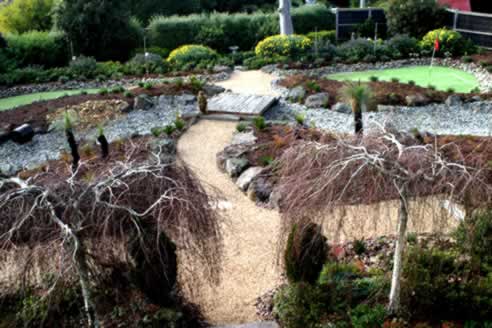 The overall design has utilised large quantities of Australian local pebbles, available from DécoR Stone (Aust) Pty Ltd for various functions within the landscape. The pebbles that have been chosen are quarried under licence, having a minimum effect on Australian ecology. Goulborn Gold 7mm has been used for garden paths, Aussie Black 50mm+ for the river bed, Delatite 30-50mm and 50-200mm around the two golf greens, as well as Riveria 20mm, Ettamogah Red 20-40mm, 50-200mm and Aussie Sandstone 40 - 100mm. This selection of pebbles has been used as a focal point of the garden, as lawn replacement, mulching, ornamental decoration and to imitate water movement.
This transformation is a source of inspiration for others who want to adopt a responsible and sensible approach to gardening. This particular landscape has been designed from the beginning to reduce the amount of resources needed to maintain it and the amount of waste it produces. The design, selection of adaptable native plants, installation of efficient irrigation systems creates a balance that matches both the aesthetic needs and the resource availability of the local region. In a sense this landscape is "hereditary" - it is a truly Australian bush landscape that attracts fauna and represents the Australian natural beauty.