Thermal Pipe Insulation 4-Zero & Thermalag 4-Zero from Thermotec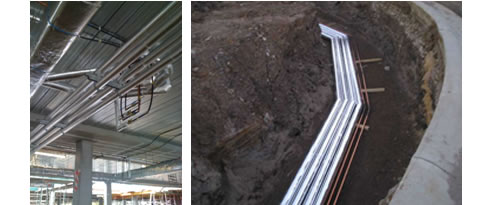 Thermotec 4-Zero pipe insulation
Incorporating a factory applied reinforced aluminium covering for optimum fire performance in accordance with AS 1530.3, Thermotec 4-Zero is a pre-formed pipe insulation manufactured from LDPE closed cell foam with a density of not less than 50kg/m3.
The thermal conductivity of Thermotec 4-Zero is 0.032W/mK at a mean temperature of 23C. The low thermal conductivity (k value) combined with negligible moisture absorption ensures that Thermotec closed cell polyethylene foam pipe insulation gives ultimate protection against heat loss. Thermotec pipe insulation has an operating temperature range if minus 40C to 90C making it highly suitable for both hot water lines and chilled water systems.
Wall thickness: 15mm, 20mm, 25mm and 30mm
Pre-formed to suit pipes with OD: 12.7mm to 101.6mm
For larger pipe Thermotec manufacture the Thermalag product which is a grooved sheeting pre-cut to suit the pipe size required with foil face and overlap for easy installation.
Thermotec 4-Zero pipe insulation and Thermotec Thermalag are particularly suitable for underground pipework as well as all Commercial building applications.