Insulation Tape for Pipes from Thermotec Australia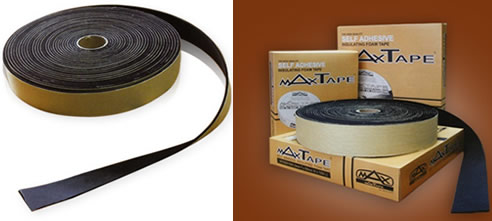 MaxTape - EPDM Insulation Tape now available

Thermotec Australia is pleased to announce that it is now stocking MaxTape. MAXFLEX TAPE is made from EPDM insulating foam sheet and specially coated with selected acrylic pressure sensitive adhesive to ensure good tacking strength and long service life. It is closed cell, lightweight, having stable and low thermal conductivity value which serves the insulating purpose in retarding heat loss, heat gain and condensation protection. MAXFLEX TAPE is made from the same elastomeric material as E-flex/MAXFLEX. It is ideal for ease and quick installation. Just simply wrap onto the hot or cold pipes, or pipe fittings. The tape will adhere firmly to all metals without delamination problem. MaxTape is also widely used in the HVAC industries and often specified for use on projects.
Available size 3mm x 50mm x 9.1m roll
Protects against frost
Excellent rebound recovery
Ideal for Duct application
Minimises heat loss in pipes
Low moisture absorption
Black for low visibility
Thermotec MaxTape is available through a comprehensive network of trade distributors.