Acoustic Pipe Insulation with Nu Wrap 5 from Thermotec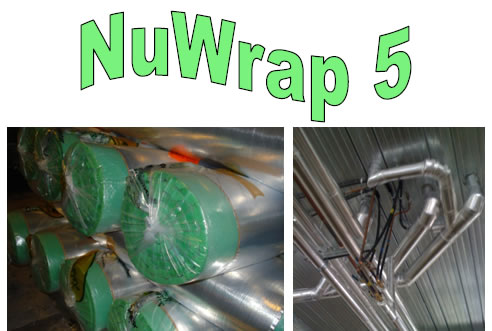 Reducing Pipe Noise in Buildings
The Problem - Noise from Water Pipes Disturbs Residents in Buildings
One of the most common complaints in homes and multi-residential buildings concerns noise from the pipes when cavitation or drainage occurs.
PVC and other pipes radiate noise into the ceiling or wall cavity that can disturb the quiet enjoyment of our homes, especially at night.
The Solution - NuWrap 5™ Acoustic Lagging for Pipes.
The Building Code of Australia now sets the standard for noise emissions from pipes in buildings.
NuWrap 5 forms the core of a quick and inexpensive system designed to meet these rigorous standards.
NuWrap 5 forms the core of a quick and inexpensive systems designed to meet and exceed the high standards set by the Building Code of Australia
Green Star compliant - complies with ODP (EMI9)
NuWrap 5 combines 25mm convoluted acoustic foam with high performance 5kg/m2 loaded polymer barrier-foil faced.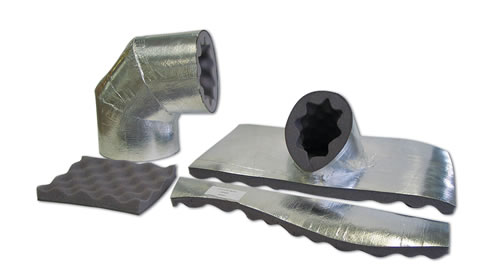 NuWrap 5 Specifications:
Sound rating (exceeds):
Rw 45 (Rw+Ctr 40) single wrap over PVC pipe with 1 x 10mm plasterboard
*meets BCA requirements for habitable rooms. Test reports available on request.
Roll sizes 3 mtr x 1350mm wide.
Precut "Flat Pack" parts available for all PVC pipes and fittings
Other Products from Thermotec:
NuWave Base 4kg, 6kg & 8kg
NuWave Base "4Zero" foiled.
NuWave T65 "Impact" foam
Thermotec Pipe Insulation
NuWave Floor Underlay
E-therm Roof & Wall Insulation