Vortex Mixers from Era Polymers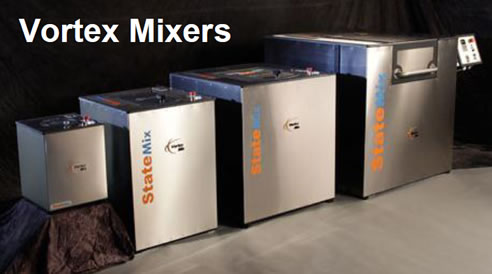 Vortex Mixers
MIX DIFFICULT TO BLEND MATERIALS IN SECONDS!
Era Polymers are the exclusive agents for the Vortex Range of Mixers, in Australia & New Zealand. (The Vortex Range of Mixers are produced by Statemix in Canada.)
Vortex Mixers are designed to mix and de-gas difficult to blend materials over a wide range of viscosities with no blades in seconds!
The Vortex range of mixers, are suitable but not exclusive for blending the following:
Polyurethanes
Silicones
Inks
Waxes
Filled Polymers
Epoxies
The Vortex range uses dual axis centrifugal mixing which produces a tremendous shear force therefore no blades are required which also results in no time consuming cleanup of equipment.
To watch a video demonstration of the Vortex in action please visit: www.statemix.com
The Vortex Mixer range starts with the Vortex VM-200 which is a bench-top lab machine capable of mixing and degassing up to 200g of material, the largest Vortex Mixer is the VM-10,000 which is ideal for large production runs and is capable of mixing and degassing up to 10kg of material.
To download a brochure please visit http://www.erapol.com.au/assets/files/products/machine/Statemix/Vortex%20Mix%20Flyer.pdf
For further information or a demonstration of the Vortex Mixers please contact: Hugh Fraser, Era Polymers Machine Specialist who will be happy to assist you with your enquiry.