General Purpose Rigid Polyurethane Foam from Era Polymers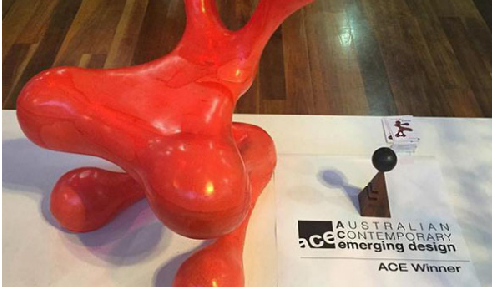 Era Polymers Foams used in prototype of "Moxie Chair" designed by Kristina Melnikova's Won the 2015 Australian Contemporary Emerging Design Award
Kirkside Products Artistic Representative, Will Huntley assisted local Tafe student Kristina Melnikova with guidance in using some of Era Polymers Foam products to prototype and create her winning design.
The Moxie Chair is an attractive modern piece of furniture, soft and inviting to sit in, smooth and pleasant to touch and innovative in its production. The chair's structure is supported by a zigzag stainless steel frame and covered in moulded polyurethane foam.
Kristina Melnikova used Era Polymers Greenlink EF510 foam in her final design piece for the competition but first created a prototype using Era Polymers Ecofoam GP330.
Ecofoam GP330 is a general purpose rigid polyurethane foam product for pour in place applications. It contains no CFC's or HCFC's so is an environmentally friendly foam that has no ozone depleting potential. The formulation contains fire retardants and has a free rise density of 33 kg/ m³. Ecofoam GP330 can be manually drill mixed (@ a minimum speed of 2500 rpm) or processed through foam-dispensing equipment.
Greenlink EF510 is a high resilient and abrasion resistant elastomeric polyurethane foam. The system can be manually drill mixed (@ a minimum speed of 3000rpm), however, it is preferable to process through a plural component polyurethane dispensing machine.