Soft Spray Foam Insulation System Icynene® from Era Polymers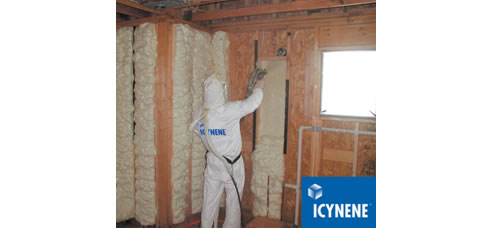 ICYNENE® THE LEADING SOFT SPRAY FOAM INSULATION SYSTEM FOR YOUR HOME
Insulating your home has never been easier or more economical with Icynene®, the leading soft spray foam insulation and air barrier system. Icynene® creates a superior air-seal around your home which effectively minimises air leakage to deliver advanced moisture control, healthy air, and energy savings of up to 50%.
Era Polymers is proud to announce that we are now the Australian and New Zealand licensed distributor for all Icynene® spray foam insulation products.
The Icynene Insulation System® is a 100% water-blown, expanding soft foam product available for spray application or as a pourable foam. Icynene® outperforms other insulation materials by providing ideal R-value levels and air-sealing in one step, without the need for labour-intensive sealing materials.
Ideal for home owners, Icynene® creates a healthier indoor environment, minimises air leakage which in turn leads to increased energy efficiency, reduces airborne sounds and offers greater design freedom. Icynene is the perfect insulation fit for walls, roofs, ceilings and floors.
For more information on the Icynene insulation system®, please contact Era Polymers.