Integrated Proportioning System Graco Reactor® from Era Polymers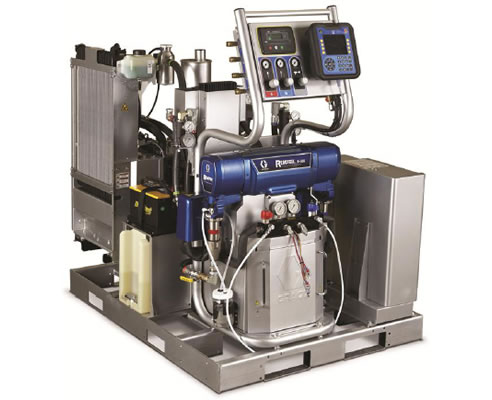 Now Available in Australia!
The Graco Reactor® E-30i & E-XP2i
Integrated Proportioning System
Era Polymers are proud to announce the Reactor® E-30i & E-XP2i is now available in Australia for the first time. The E-30i & E-XP2i integrated system combines an electric reactor with a diesel generator into one package. This system is suitable for polyurethane foam or polyurea applications; offering an easy to use cost effective spray machine.
Era Polymers will be showcasing the Reactor® E-30i & E-XP2i with a series of demonstrations from the 4th - 20th June 2012. Book now for your chance to see these machines in action and see just how easy they are too use!
Benefits and Features
Reduced Costs
- Heat from diesel engine used to heat A & B materials
- No heaters or only a small heater required
- System's only require a 20kw generator
- Compact, portable design so smaller trailer required for transportation
Minimal set up
- Pre-wired with components already selected and installed
- Improved heating capacity; materials only need one pass through the exchanger to be ready for spraying
Improved Spray Performance
- Consistent pressure at gun
Improved Productivity - Advanced Control Technology with Display
- Tracks project information
- Data can be downloaded to USB for further analysis
- Drum fluid levels - lets you know if you are running low on material
- Gives daily chemical output
- Saves key setup data for up to 24 chemical recipes
- Offers on-screen troubleshooting advice
- System can be programmed to shut down automatically if chemicals are low or pressure imbalance occurs
To book a demonstration or for further information on these machines or others in our range, please contact our Machine Specialist, Hugh Fraser on +61 (0) 9666 3788 or email.