BITUTHENE® Post-Applied Waterproofing Membrane from GCP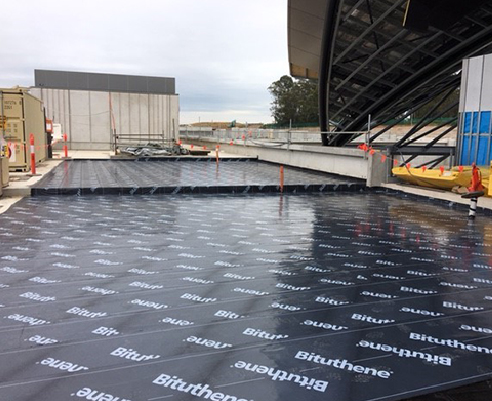 Proven Performance from the World's Most Trusted Post-Applied Waterproofing Membrane
Flexible and powerful
BITUTHENE® is available in a number of grades to suit your project needs. Supplied as an easily applied sheet, it can be cold-applied at temperatures as low as -3°C and can be placed on a variety of concrete surfaces. Its robust waterproofing properties, combined with its ease of application, results in a contractor-friendly product that adds value to buildings.
Apply easily, anywhere
Although the chemical properties of BITUTHENE® make it suitable for a variety of applications, we have added mechanical innovations to further its ease of use and long-term viability.
RIPCORD® design lets workers easily split release liner for ease of positioning.
Cold-applied membrane avoids the risk of fire during installation due to the fact that flame and/or hot works are not required.
Self-adhesive overlaps avoid leaky seams and eliminate the need for specialized equipment or training.
When used with a primer, BITUTHENE® can easily be applied to damp or green concrete during time-sensitive construction, saving time and money for the project team.
Get world-class technical services
With so many versatile applications, there's a BITUTHENE® solution for nearly every project and design. We provide world-class technical services in order to make those limits even smaller.
For more information on Bituthene® post-applied waterproofing membrane, please visit www.gcpat.com.au today.