Air-Cell Insulation to help achieve 5 Star House Energy Rating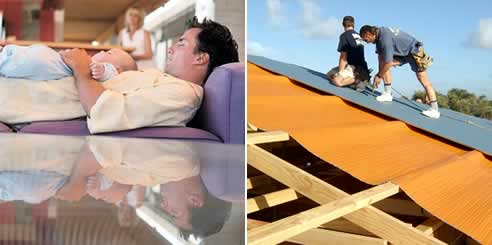 With Air-Cell® your insulation is clean, fibre-free and non-allergenic, your energy footprint is smaller, and your loved ones are comfortable. By using Air-Cell® Insulation in your roof, ceiling, walls or floors, not only will you reduce your energy needs and impact on emissions, but you would also be choosing a product that uses no water in its production. And unlike some conventional bulk insulation, Air-Cell® does not contain toxic chemicals such as formaldehyde or any other volatile organic compounds (VOC).
Wrapped up in an ultra-thin profile, Air-Cell® is Australia's leading thermo reflective insulation brand, and is the first insulation product in Australia to achieve CodeMark certification to the Building Code of Australia, giving you total peace of mind.
So you can breathe easy with Air-Cell® Insulation.
Benefits
Advanced thermal performance.
Reduces energy costs for heating and cooling by up to 50%.
Keeps you up to 10°C cooler in Summer and 7°C warmer in Winter.
Helps you achieve a 5 Star House Energy Rating.
Uses no water in its production.
Fibre-free and non-allergenic.
No risk of airborne fibres contaminating indoor air quality.
2-in-1 insulation and vapour barrier.
Quick and easy to install.
Tough, strong and durable.
Rodent and insect resistant.
Water resistant and non affected by humidity.
Fire retardant.
Suitable for roof, ceiling, wall, and underfloor applications.
CodeMark certified to the Building Code of Australia.