Glass Roof Shading System from Silent Gliss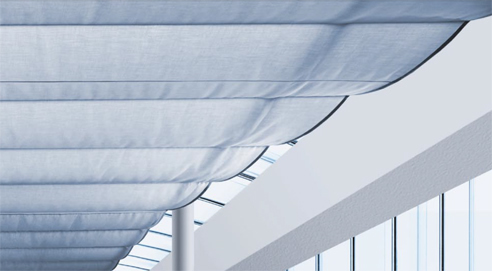 Silent Gliss 8700 Skylight Shading System is a strong and technically advanced glass roof shading system. The robust design of the 8700 allows controllable daylight for the largest applications.
One Silent Gliss 8700 can accommodate fabrics up to maximum 50m². With the ability for side-by-side fitting, multiple systems can be installed in parallel. This allows huge glass structures to be handled with this elegant new, roman blind style of window treatment.
A wide selection of fabrics in different transparencies helps to limit the daylight according to specific needs. Fabric supporting parts are made from flame retardant and UV-resistant material.
Cantilever options allow different application shapes in order to fulfil all requirements of today's glass roof architecture.
The reliable Silent Gliss motors mean that horizontal and sloping applications up to 30° can be operated by the touch of a button. The distance between the side profiles can be adjusted to give an even and uniform appearance in the room.