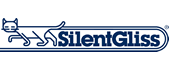 Company Profile
As the leading global supplier of curtain tracks and blinds, Silent Gliss is committed to serving the requirements of the upper end of the window treatment market. This represents customers who rightly expect the very best in terms of quality, design, technology, service and individuality.

At the very heart of our core competences is innovation, inspired and driven by customers' wishes.

Expecting the best includes excellent service. Our Customer Service Team and Dealer Network provide an extensive range of services including technical advice, fitting and maintenance.

Silent Gliss has always been a pioneer, with all of the risks and opportunities this brings. We have used our opportunities well, growing steadily now for more than 50 years.
Silent Gliss
02 9810 4300
Rydalmere, NSW, 2116
* If you would like to update the text on your profile page, please contact Spec-Net.