Fabrication services from Guardian Building Products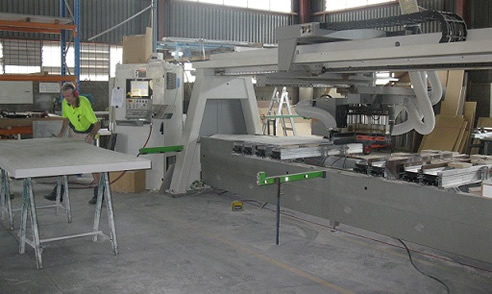 When it comes to fabrication of fibre cement and in particular compressed fibre cement, traditional carpentry tools of trade, simply need to be left in the ute.
Material weights and physical properties of this remarkably hard-wearing product, render many of the traditional methods as unsuitable.
Guardian over the past 27 years has developed many purpose-built machines and equipment, specifically for the cutting, shaping, drilling and laminating of this cement based stable of quality building boards.
Our factory offers not only an environmentally friendly solution to fibre cement fabrication, but also equipment simply not possible to export to a given site.
Guardian's quality-controlled environment offers contractors, builders and tradespeople, guaranteed workmanship resulting in site labour cost reductions, tolerances difficult if not impossible to achieve on site, and comfort in the knowledge that previous site errors in cutting and the associated replacement costs involved are a concern of the past.
Guardian's factory facilities go well beyond the once limited applications of wet saws with the inclusion of a Flo Water Jet cutting work centre in conjunction with two CNC flatbed machining stations to greatly increase our production abilities. This equipment not only provides a platform for extremely accurate output but also an almost unlimited range of shapes and designs which can be cut from a varied range of substrates.
Cut outs for penetrations, light switches, plumbing and electrical access can all be accurately cut out at the time of sheet sizing. Acoustic applications requiring perforated sheets ranging from ply to fibre cement are easily accommodated on our CNC equipment with acoustic fabrics also being applied prior to leaving our factory.