Prefabricated Panels for Onsite Dust Management from Guardian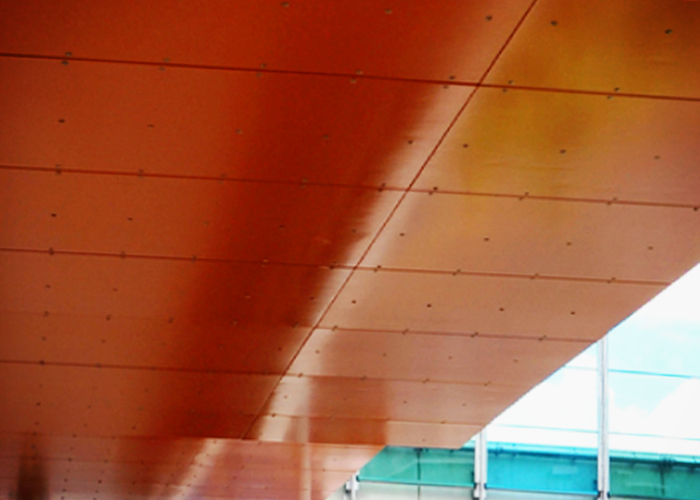 Guardian's "Readipanel" façade and facia system is non-combustible compressed fibre cement sheeting that has been cut, drilled, and painted to pre-determined specifications to provide a premium finish. It is used for ceilings, exterior and internal walls and gives a building an appearance that looks better than first class.
The Readipanel system also removes the hassle of cutting, drilling and painting to variable standards on site so you just fix the pre-fabricated panels and go. Let us wear your WH&S issues particularly those associated with dust management!
Readipanel typical uses include:
Façade and Fascia systems.
Infill panels in glazing applications.
Soffit lining panels.
Double sided balustrade panels.
Awning roof panels.
The Readipanel System has been used over a long period of time on a broad range of buildings including the Royal Brisbane Hospital, Cairns Navy Base, Queensland Academy of Creative Arts, and The Sunshine Coast Private Hospital and tunnel linings.
Not only does it look great but it's a maintenance dream as it's:
Scratch and abrasion resistant.
Graffiti resistant.
Resistant to most moulds.
Easily cleaned during cyclical maintenance programs.
Why Builders Love Readipanel
Each Readipanel is pre-drilled, fabricated, cut to size and sanded by Guardian. We then factory paint the panel, using a two-pack paint system, which offers a premium finish in a broad range of both plain colours and metallic finishes. Standard size panels commence at 1800 mm x 900 mm and range up to 3000 mm x 1200 mm. Standard panel thicknesses are 6 mm, 9 mm, 12 mm, 15 mm, 18 mm and 24 mm.
Why Readipanel makes a builder's life easy:
Are pre-fabricated - site costs are controlled and dust and lack of space problems are minimised;
Can be numbered to match site codes for easy identification;
Can be packed to match elevations or locations to simplify site processes;
Provide high quality finishes that are only achievable in factory applied applications;
Save you fixing time and scaffolding costs, as once installed, all finishing processes are complete; and
Are pre-painted, so if it's raining, you will never get held up waiting for on-site painting.
Readipanel Goes Residential
Readipanel can also be used in residential applications - our RES façade panels are durable, cheap and strong but look expensive. Each RES façade panel is fabricated from a "Scyon Matrix Panel" which is a "commercial look" cladding without the price tag of commercial applications.
Standard panels sizes are:
2990 mm x 1190 mm x 8mm
2390 mm x 590 mm x 8 mm
1190 mm x 1190 mm x 8 mm
1790 mm x 890 mm x 8 mm
Want to Know More
We can help you specify the best outcome for your needs, so feel free to pick our brains at no charge, as to how you can solve any façade or facia situation. For more information, visit www.guardianqld.com.au today.