DécoR Stone's Décor Glass™ featured at Canberra's Kingston Foreshore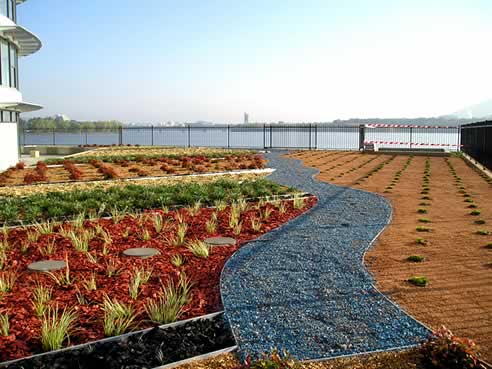 Kingston Foreshore is one of the most distinguished suburban locations in Canberra, a development exemplifying sustainability and exceptional design quality offering a superior quality of life.
Kingston Foreshore can be called Canberra's finest contemporary lifestyle estate, with the finalisation of the landscape around the Waterfront Apartment. Without a doubt, this landscape design is art that you can walk on. The overall design of the landscape shows off sustainable principles and modern lifestyle that is harmonised with the natural surroundings of the area.
This breathtaking landscape was conceived by prominent and award-winning Landscape Architects "Cia Landscapes and Colour." Cia Landscapes and Colour designed a landscape that is modern, architecturally bold and unique, practical and sustainable. This landscape is a creative revelation of the natural surrounds of Lake Burley Griffin and Canberra and the native flora. This Waterfront landscape design does not symbolise profound European influences and does not include plant species that were introduced to us from humid parts of the world that become a drain on our limited resources.
Every year, a lot of money is being invested into designing modern urban landscapes. Unfortunately, looking at their impact upon our ecology and focusing on sustainable landscaping principles seems to be in its embryonic stages. In contrast, Cia Landscape and Colour's design shows that a sustainable landscape can be a beautiful work of art.
Award-winning Landscape Solutions has given life to Cia Landscape and Colour's ground-breaking design vision. Landscape Solutions' attention to detail, quality workmanship, choice of materials and level of customer service has been recognised having been Winners of two major awards at the 2006 Landscape Industry Awards; Landscape Solutions has once again demonstrated their quality workmanship with the new Kingston Foreshore project for the PBS Property Group. With this project, Landscape Solutions continue to set a new benchmark for quality and client service in the landscaping industry.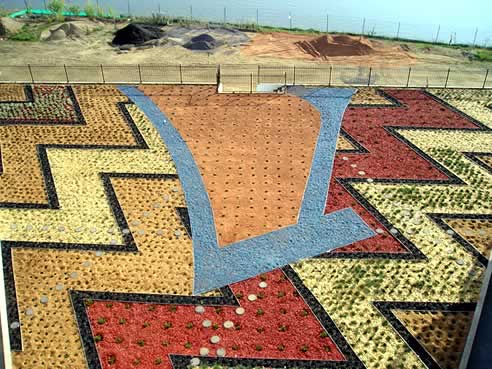 The Waterfront landscape design demonstrates different areas of mulches, whereby the entire area is on a structural slab with many layers of road base or soil under. DécoR Stone supplied this project with their recycled coloured glass in metallic blue. DécoR Glass is an Australian manufactured product using 100% recycled crushed glass incorporating a wide range of environmentally safe, lightfast, colour coatings. These innovative aggregates are composed of clear recycled crushed glass coated with colourant for use in epoxy and cement terrazzo, precast tiles and landscaping applications. When captured in a matrix and ground, the polished surface reveals a gem-like transparent, coloured aggregate resembling stained glass or coloured resin chips with additional depth and sparkle. A comprehensive range of 36 colours is available in a selection of bright, earthy standard colours and a range of subtle soft metallic tones. The coating used for the application of colour to DecoR GlassTM pieces is a polyurethane highly resistant to U.V. light, abrasion and weather. The pigments used are similar to those used in high performance paints, industrial, automotive and architectural finishes.
"We take pleasure in being part of the pioneering partnership of ideas that take the living areas to new levels of creative expression. People often reject sustainability as they see it as an added cost, failing to appreciate the true cost, both financially and environmentally. Providing quality and environmentally friendly products and being involved in sustainable projects is our company mission, so this project is great for us," says Geoff Iles Managing Director of DécoR Stone.
Kingston foreshore shows the endless creative and design possibilities accomplished through Cia Landscape and Colour's design vision and Landscape Solution's construction ability. Landscape Solution's involvement in this project reveals that careful construction is a vital element in providing a space of exquisiteness and practicality. This revolutionary landscape project features ground-breaking techniques and workmanship. This project indicates that a well planned design and a quality range of products such as the DécoR Glass is the foundation of a successful project, ultimately determining the success of any project.