Soffit and Ducting for Perth Stadium from Kingspan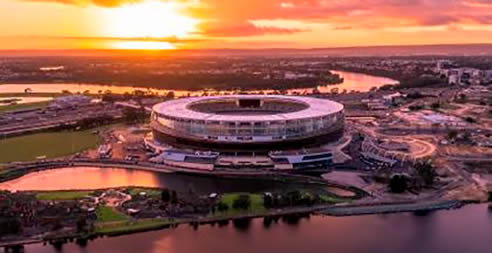 Optus Stadium
Location: Perth, WA
Architects: Hassell, Cox & HKS
Contractor: Cubic Group
Application: Soffit and Ducting
As Western Australia has come of age, the race has been on to ensure its capital city's infrastructure kept pace. The highly anticipated Optus Stadium (originally named Perth Stadium) has long been considered a major part of the regeneration program.
The round stadium consists of tiered seating located above bars and restaurants in the levels below. The unique design - a collaboration between Hassell, Cox and HKS - called for a slim profile, thermal solution capable of meeting the limited space allocation while still delivering on the high energy efficiency requirements of the project.
With this in mind, the Kingspan technical team, along with the project's contractors at Cubic Group, designed a customised installation solution that could be applied to the underside of the seating plats.