Carpark Insulation for Crown Towers Perth from Kingspan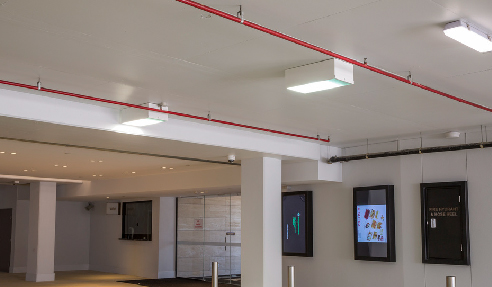 Crown Towers Perth is Australia's newest 6-star luxury hotel and casino
A Project Demanding Perfection
Featuring 500 guest rooms along with multiple restaurants and bars, a high-end retail, business and convention centre and gaming and entertainment areas, this is truly a world-class entertainment complex.
Architect: YWS Design & Architecture, Bates Smart
Builder: Brookfield Multiplex
Application: Concrete Soffit
Year: 2016
Designed by YWS Design & Architecture to cater for the demands of high-end clientele, the building's distinctive contemporary design features a split-level tower - one side with 15 stories, the other with 22. The architectural firm Bates Smart was commissioned to design the grand and welcoming interior and public spaces.
The complex was built by Brookfield Multiplex, specifying quality products throughout. Superior fittings and furnishing were a priority, and attention to detail has been carefully considered to ensure guests' expectations are surpassed with timelessly luxurious interiors.
The specification of Kingspan insulation product exemplifies this dedication to quality. Kooltherm K10 PLUS Soffit Board was used extensively throughout the Crown Towers Perth carpark. Installer, Ceilcon were the preferred contractor, and Kingspan Kooltherm K10 PLUS Soffit Board was chosen for its superior thermal properties, durability, quality of finish, and Group 1 NCC fire classification for NCC compliance.
Green credentials and product compliance were vital considerations when selecting materials. "Due to its superior thermal properties, Kingspan Insulation products are regularly specified to ensure that a project is compliant, meets NCC requirements and achieves a Green Star Rating," says Wayne Gray, Director of CeilCon. "Kooltherm K10 PLUS is manufactured without the use of CFCs /HCFCs, and has zero Ozone Depletion Potential (ODP) and low Global Warming Potential (GWP). These important considerations further strengthen the project's green credentials."
Kingspan Kooltherm K10 PLUS Soffit Board is a super high-performance product, constructed from a fibre-free rigid thermoset, closed cell phenolic insulation core. This is sandwiched between a front-facing 6mm fibre cement sheet and a reverse tissue-based facing, autohesively bonded to the insulation core during manufacture. These properties give Kooltherm K10 PLUS a significant advantage over regular soffit boards, both in terms of superior performance and durability. There is negligible risk of damage from antennae, minimising future maintenance and rectification costs.
"Kooltherm K10 PLUS was a natural choice for us when working on Crown Towers Perth," Wayne says. "Its many advantages also include superb acoustic dampening qualities of the fibre-cement facing.
"Our client wanted a soffit with board pre-adhered, so they could easily paint over and wash the surface,' Wayne continues. 'To meet their brief, Kooltherm K10 PLUS was installed throughout the car park. It looks fantastic."
Secure adhesion is assured when installing K10. "The fixing has to be exactly right, with everything fastened securely to each board. Each board is supplied pre-bonded from the manufacturer, and we then affix each one with 11 pins," Wayne explains. "By comparison, other soffit board products are more difficult to work with. In an earlier project, for example, we had to use a suspension system with heavy-duty insulation and a metal pan secured underneath, which proved both extremely challenging and time-consuming. With Kooltherm K10 PLUS, it's far easier - you simply install it and pin it. Once fixing has been completed, that's it."
An extensive amount of Kooltherm K10 PLUS Soffit Board was used in the Crown Towers Perth car park. "We ended up using 2,800m2," Wayne says. "It's very easy to install, and cosmetically ideal for this application."
Wayne found the experience of working with Kingspan very positive from beginning to end. "The local supply source was brilliant throughout, as Kingspan are great at looking after their contractors," he notes. "Product was available as and when we needed it, and they provided a Letter of Compliance immediately. All in all, they were very responsive and offered great customer service."
Kingspan Kooltherm's superior product range and guaranteed performance criteria were a perfect fit for this landmark luxury development.