Car Park Ceiling Insulation for UTS Sydney from Kingspan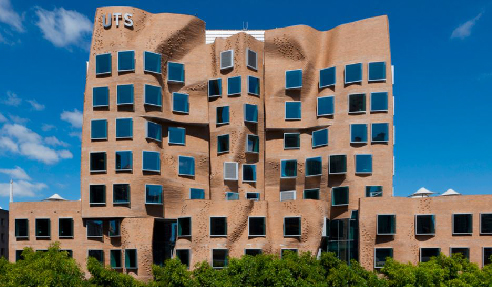 Dr Chau Chak Wing Building-UTS Sydney

The opening of any new building involving the renowned architect Frank Gehry is an international pageant-scrutinized in great detail, criticized with acid precision, and always envied.

Architect: Gehry Partners Builder: Lend Lease Application: Cavity Walls and Concrete Soffit Year: 2015

When it opened in Sydney in early February 2015, the Dr Chau Chak Wing Building at the University of Technology, Sydney (UTS) attracted all the anticipated hubbub, along with plenty of introspective interest from spectators keen to soak up the more novel aspects of the structure.

Constructed in less than 18 months, the 12-storey building has been designed to accommodate the university's business school, including lecture and seminar rooms, research centre facilities, as well as a basement level for car and bicycle parking.

Critics seem to agree on one thing: as with all Gehry projects, the UTS building's materials and artisanship represent world's best practice. With its ragged-edged folding eastern façade of custom-manufactured bricks, large expanses of west-facing dark glazing that rise upwards in geometric fits and starts, and protruding windows resembling Post-It Notes on a giant board, the structure is immediately striking for its 'handmade' qualities.

As a 5 Star Green Star building, the structure is as efficient as it is bold, with innovation evident even at basement level.

Due to the low profile of the basement roof, it was necessary to find an insulation solution that would not only be thermally effective but which would also take up minimal space and satisfy the required fire rating.

Kooltherm K10 FM Soffit Board was the obvious choice. This Kingspan-supplied insulation board was installed in over 2,000 square metres of the roof area of the carpark, with the foil surface exposed and positioned under the floor slab.

Another 400 square metres of white-faced board was placed on the carpark ceiling near the entry. The thin profile of the board meant the ceiling height could be maximized without sacrificing performance. It is worth noting that Kooltherm K10 FM Soffit Board achieves CodeMark certification standards, providing assurance to specifiers and designers that the product will meet its claimed performance benchmarks. This assurance is crucial when calculating energy efficiency targets for approved Green Star rating assessments.

The exposed foil surface itself harmonises with the overall building design, offsetting the darkness of the space and creating the illusion of a higher ceiling.

Protruding Windows

Apart from the stretched folds of the brick walling, perhaps the most striking features of the façade are the protruding rectangular window boxes that jut out from the brickwork walls.

These glazed marvels are a key feature of the building, providing strong linear focal points within the crumpled curvature of the brickwork. Interestingly, Kooltherm K10 insulation boards, just 60mm deep, were installed in the window boxes to achieve superior thermal performance.

These narrow-profile panels allow the boxes to maintain a visual lightness that is essential to the overall 'treehouse' playfulness of the façade when considered in the context of the heavy, twisting brick walling (a clear reference to the traditional building systems of yesteryear), the slimline metal window boxes and flat glazed surfaces appear as architectural dalliances: contemporary additions to an earlier style.

If not for the design freedoms afforded by the thin Kooltherm K10 profiles, it is hard to see how the building could have maintained its light glazed aesthetics on the heavyset brick façades.

Similarly, Kooltherm K8 Cavity Boards installed in cavity walls featuring block work again offer the design advantages of narrow-profile efficiency.

Kooltherm K8 Cavity Board is a super high performance, fibre-free rigid thermoset phenolic insulation, faced on both sides with a low-emissivity composite foil, adhesively bonded to the insulation core during manufacture. This reflective surface improves the thermal resistance of any cavity adjacent to the board without taking up excessive space.

This popular product, like all Kooltherm insulation boards, has another benefit over conventional bulk insulation materials-performing at almost 70% better than glass wool wall batts, these thin, high-performance boards allow wall footprints to remain thinner, saving precious space and creating more useable internal floor area.

Occupant Comfort

All insulation products used in this landmark structure enhance the functionality and efficiency of the building as far as the external walling is concerned, it also safeguards and preserves comfort for building occupants.

The structure features a number of rooms of irregular shape and dimension, making full use of unusual spaces and inviting users to challenge their preconceptions about what is 'normal' in a tertiary learning environment.

First-class insulation is fundamental to this process, as it allows students to remain comfortable while they test the boundaries of oval classrooms, feature staircases and informal meeting hubs throughout the complex.

Trusted Quality

The Dr Chau Chak Wing Building showcases the genius of a team of dedicated design consultants, architects and engineers, all of whom were obviously committed to the task of assembling the best possible materials in the best possible way.

The goal of achieving a space that would support and engender an inventive academic spirit has undoubtedly been achieved. All design elements meld function and form without compromise, which underlines an ethic of success based on hard work and inspiration.

"We were confident in specifying the Kingspan Kooltherm insulation products as it allowed us to meet both the space constraints and most importantly, performance criteria. Trust in every product we specify to perform as stated and in full compliance to the highest possible standard is critical," said Daniel Beekwilder of Daryl Jackson Robin Dyke, Local Executive Architect on the project.

"The whole concept of 'trust' is a cornerstone of our company," says Kingspan Insulation Managing Director, Scott Gibson. "We understand that trust in today's business environment is an absolute necessity."

According to Scott, trust in Kingspan Insulation always begins with the 'basic elements' of product quality and appropriate product ranges to suit Australia's unique conditions and building practices.

"When we heard that we had been entrusted to handle many of the most complex insulation elements of the Dr Chau Chak Wing Building, we jumped at the chance to work alongside the world's most experimental and far-thinking design professionals.

We are delighted with the result, and commend all those involved in the project for producing a structure that will be admired and talked about for generations."

For an in-depth look, visit www.kingspan.com.au.