Striking impact with DécoR Stacked Stone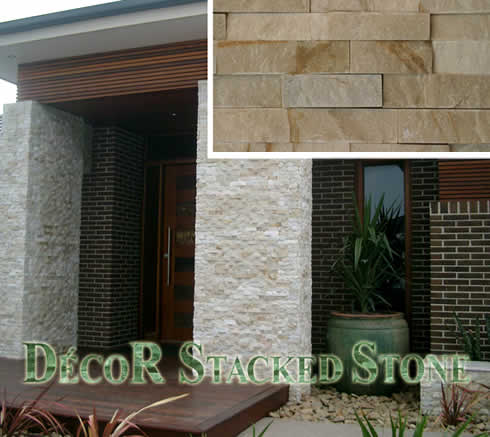 DécoR Stacked Stone is made of natural stone which has a quality and texture that permeates any area with sentiment and essence. For those who want to create a continuation between outdoor and indoor areas, the DécoR Stacked Stone is the ideal solution. For decorative purposes, the warm texture of the DécoR Stacked Stone can create an effect that man made equivalents cannot match.
Using DécoR Stacked Stone for a front entrance can give a complementing natural and timeless look. Installing DécoR Stacked Stone in a front entrance brings texture, colour, tranquillity and lasting sophistication.
The DécoR Stacked Stone comprises six popular colours: the rustic rough charm of Russet, the gentle obscurity of Onyx, the smooth modern appeal of Ivory, the warm placid tones of Bisque and the iridescent enchanting hues of Shimmer.
Available at only $75 per m² (+GST), the DécoR Stacked Stone is the ideal choice for residential and commercial projects.