High Performance Insulation for RAC Arena Perth from Kingspan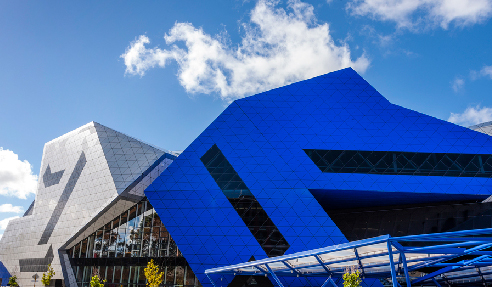 Insulation Performs at RAC Arena

RAC Arena - a showpiece of contemporary Australian public architecture - presented Kingspan Insulation with a range of technical challenges requiring highly customised solutions.

Location: Perth, WA
Builder: BGC Construction
Application: Walls
Year: 2012


RAC Arena (formally Perth Arena) is a showpiece of contemporary Australian public architecture - presented Kingspan Insulation with a range of technical challenges requiring highly customised solutions.

With its asymmetrical lines and sweeping irregular shapes, RAC Arena, completed in November 2012, is an individualistic building featuring a unique set of design and engineering challenges, none more dramatic than those relating to the insulation of the structure.

Standing some 50 metres high, the arena is a multipurpose centre built to host sporting, theatrical and musical events for up to 15,000 guests. The original and innovative design, however, called for bespoke treatments of all basic structural elements, including insulation, to meet ambitious thermal performance targets and ensure the long-term integrity of the structure.

Even at the earliest design stages, it was clear that high-performance insulation would be intrinsic to the building's overall viability. There were two primary insulation-related considerations: how to minimise the risk of condensation; and how to achieve high thermal efficiency (R-value of RT2.7).

"It's a large steel structure with a unique construction, and there were challenges in relation to condensation and the high R-values that were required within the building systems," says Craig Burr, Kingspan Insulation's State Manager WA.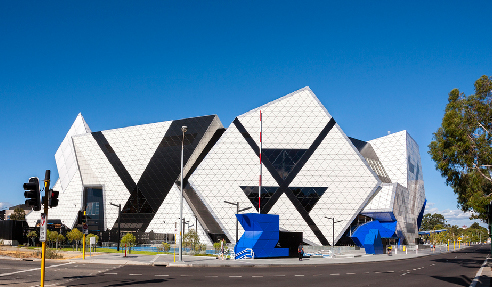 Approximately 7,200 tonnes of steel were used to construct the arena, which is significant because large masses of cold steel within a building fabric can lead to temperature differentials between the steel and ambient air, leading to a build-up of condensation. The problem is compounded in the structural skins of energy-efficient buildings, as leaky ventilation points are tightened to minimise energy wastage.
"So, there was a concern about 'cold bridging', or the effect that steel would have with that high insulation barrier," says Burr.
Proprietary Solution
Fortunately, by analysing the building's physical and geographical characteristics, as well as the behaviour of all relevant associated wall materials, it was possible to derive a solution to the threat of condensation without sacrificing thermal performance.
"We at Kingspan have a proprietary condensation risk analysis software," Burr explains, "which means we were able to advise about how to reduce condensation, taking into account all the building elements for that envelope. We advised about where to place our insulation on the envelope, and we also recommended that a vapour-permeable membrane would be best utilised to wrap the building before the aluminium cladding was installed on the outside. So, we offered a full-layer system from external to internal, showing where the insulation should be placed within that system."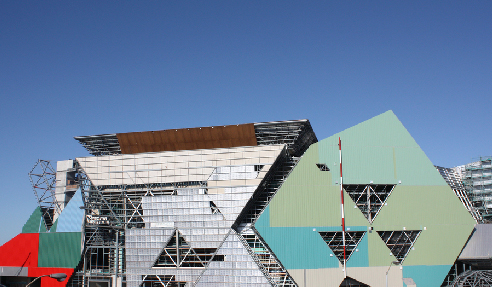 The resultant full-wall profile, which includes Kingspan Kooltherm K12 Framing Board rigid insulation panels, is a unique system-designed specifically for the arena-which promotes passive vapour expulsion even though the system is sealed.
"Achieving a satisfactory design for the insulated walls was only one of the practical challenges associated with this project," Burr adds.
"Due to the many irregular shapes incorporated into the façade, it was necessary to pre-cut as many K12 insulation panels as possible to guarantee correct sizing and facilitate speedy installation processes for the builders BGC Construction. As part of this process, panels were given 'friction fit' placement before being secured against steel surfaces with specially designed brackets".
"We worked out that 70% of all insulation panels fitted into three distinct sizes," Burr says, "and these were all supplied custom-cut; in the end, we installed approximately 17,000 square metres of Kooltherm K12 insulation; some panels were small, down to 400mm x 1200mm."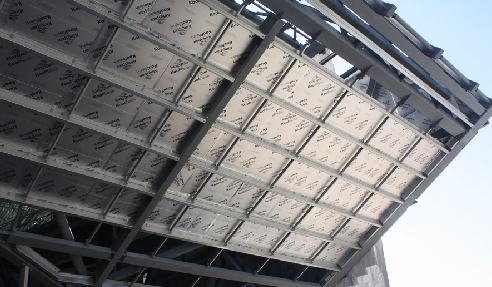 Overall, many thousands of separate insulation panels and strips were required to complete the project.
In the months since completion of the project, Burr reports, the building insulation has performed to specification and there have been no reports of condensation build-up. Kingspan Insulation's technical expertise and project-specific solution solved the condensation problem while safeguarding energy efficiency: a performance worthy of a standing ovation.
For more details, please visit www.kingspan.com.