Décor Pebble shows how ecological sustainability is a matter of design.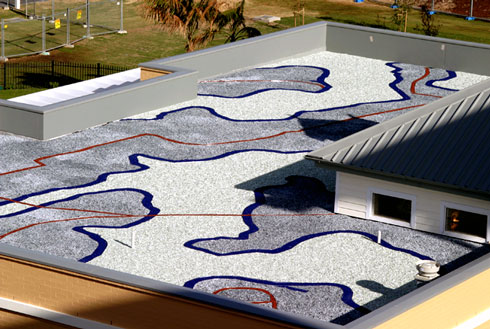 Environmental sustainability arises at the top
The latest fashion or green roofing transforms the crowded and dark urban structure into a green and luxuriant landscape. After the initial sensation of the Mirvac's Yarra Edge apartment endeavor in Melbourne's Docklands, a new project of a massive magnitude has been attempted in Sydney. For both designs, Melbourne based DécoR Pebble has been the principal supplier of decorative pebbles and recycled glass, which made the aesthetic success of the designs possible.
| | |
| --- | --- |
| The newest project is Baulderstone Hornibrook's Breakfast Point development in Sydney designed by Newcastle based EJE Architecture. Architect Lilly Goninan recreated the geographical contours of the adjoining Parramatta River on the two lower roof level decks of the building, following the application of a waterproof membrane. This emergent universal fashion of roof scaping incorporated the use of compressed recycled coloured glass and manufactured natural stone tumbled pebbles. A mid blue coloured glass was used in 40cm wide strips to create the shape of the river with the infill 'water' utilizing a 10-15 mm Jade Green pebble. The land areas were fashioned using Black Jade pebble with the focal arterial roads in the area set using Bushstone Red crushed recycled glass. The DécoR Pebble assortment of manufactured aggregates and the 36 colours of crushed recycled DécoR Glass aggregates provide designers and architects an immense assortment of vibrant and soft colours to select from. | |
Well designed green roofs give rise to balanced, living ecosystems. Their protective and sustainable attributes preserve energy and moderate sound reflection and transmission. Green roofs have the ability to lessen the warming effect of urban heat islands. Another noteworthy advantage of a green roof is control of storm water overspill, an increasingly significant ecological aspiration of sustainable landscape design. Thus, green roofing not only makes the cityscape a striking structure it also has environmental benefits.