Glass flooring from Décor Pebble features at 'The Library' Perth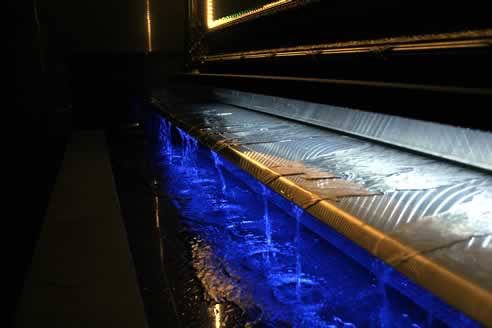 Experience Perth's latest and most flamboyant venue "The Library" designed by Marcos Cain founder of CoLab. The Library is best described as a Bordello / Baroque / Guildfordian blend. Imported Swarovski crystal, granite bathrooms, crushed glass flooring, pressed tin and architectural plaster are just a small fragment of Marcos' most recent creation. Over 2000 LED's are individually manufactured to augment the aura and creative detail. Overall, The Library defines a pristine era of club culture. Capital expense and outlay exceeding 1 Million, while pioneering and stylish comfort is the hallmark of The Library.
With The Library Marcos Cain takes innovative design to a new level with a blend of a lounge atmosphere, club and bar. The venue consists of different rooms, the study, the lodge, the conservatory, the lounge and the ballroom. Re-designed into four bars over two levels, this venue offers a deluxe and unmatched diversion from the outside world and a hectic lifestyle. The Library is a clever mix of different architectural styles, highlighted with luxurious elements such as Imported Swarovski crystal chandeliers, Jarrah timber and velvet interiors.
Patrons are spellbound by the atmosphere of the fireplace, Corinthian Capitols, diamond button studs, deluxe booths, antique books from wall to wall and historic artifacts. The bar area is covered in DécoR Pebble's glass flooring, which is made of crushed recycled glass. Blending sophistication and elegance, The Library indulges your mind with its surroundings and rich décor, including a tranquil water fall, high dome ceiling and a romantic gazebo.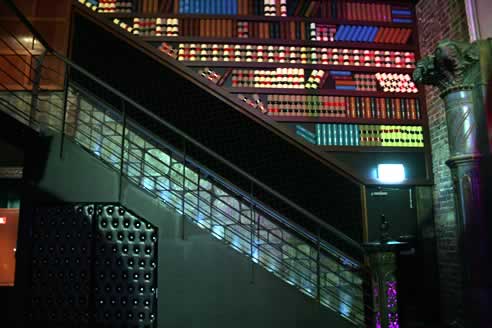 The late night entertainment industry is a highly competitive market where image and milieu is everything and the only thing to set you apart. The new look of the venue is evidence of Marcos' imagination, attention to detail and natural sense of style, whereby the design of the venue's exterior unfolds the intrigue. The result is a new benchmark for modern bar design. The Library is a world of pure exhilaration, style and stimulation that stays intimate and closed within its walls.
Patrons can enjoy the intimate scene and invigorating architecture and décor of an exceptionally brilliant Perth designer.
Marcos's experience with all elements of design and depth of product and construction knowledge ensures that any 'out-of-the-box' creative design can become reality for the benefit of the client. "I believe in design lead solutions and cost effective applications. Interiors should excite and invigorate staff and customers alike" says Marcos.
Other design projects that Marcos was involved with are, Restaurant, Ascot Keys Hotel, award-winning tigerlil's and buddhabar and many more.
Marcos Cain has developed a distinguished status for creating forward-thinking and modern designs. His designs offer a commercial edge generated by the fusion of style, inimitability and professionalism. With The Library, he has revealed his unrivalled creative vision into a lasting artistic masterpiece. Marcos has left the Australian shores to embellish the world with his unique individual style contracted with an international design firm 'DWP' as Design Director in Dubai. www.dwp.com. What will be his next creation?