Group 1 Fire Rated Insulated Plasterboard from Kingspan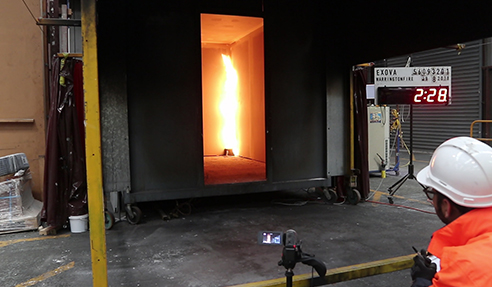 Kooltherm K17 Insulated Plasterboard achieves Group 1 fire rating
Kingspan's market-leading Kooltherm K17 Insulated Plasterboard has been gaining popularity in the Australian market and with a new rating under its belt, it is sure to keep climbing.
Once again showing its commitment to a program of global testing across its product range, Kingspan Insulation has put its leading product through the rigorous AS ISO 9705 full room scale fire test.
There is an increased focus on fire performance in the building sector and achieving a Group 1 test result for both components of the product (plasterboard and the rigid foam insulation) is the best possible outcome for the company.
The National Construction Code (NCC) requires a Group Number to be determined in accordance with AS 5637.1, where a full-scale test is conducted. Although plasterboard products are only required to undergo small-scale testing (AS/NZS 3837), Kingspan chose to test its Kooltherm K17 Insulated Plasterboard to the full scale AS ISO 9705 test to ensure its performance.
"We wanted to confirm our product was still fit to be used in all areas of all building classes and would perform as required. As a company we are focused on ensuring our products are up to standard and can provide the results we promise," commented Kingspan Insulation's Technical R&D & Accreditation Manager, Keith Anderson. "Kingspan Insulation has a huge focus on research and development. It is important that our products are regularly tested and revised to ensure we are producing the best quality products for our customers."
Kingspan Insulation's Kooltherm range is no stranger to testing and carries CodeMark, FM Approval, UL Listing, BRANZ Approval and Australian Made certifications across their product range.
Fire performance has become a focus in the industry and even stricter regulations are being applied. Kingspan Insulation has shown again that they lead the industry with their research and development.
For more information, visit www.kingspan.com.