Mapeband Easy for Elastic Waterproof Joints from MAPEI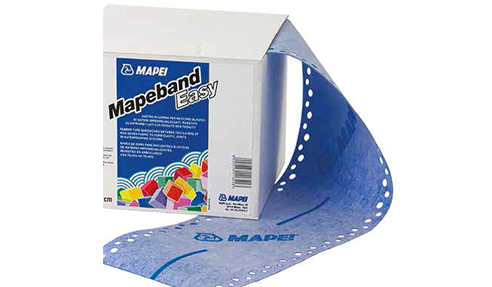 Mapeband Easy
Rubber tape sandwiched between two layers of non-woven fabric to form elastic joints in waterproofing systems.
Where to use
Waterproofing corners between adjacent walls and between walls and floors.
Waterproof elastic check joints on terraces, balconies, etc.
Technical Characteristics
Mapeband Easy is made from a central core of vapour-proof and waterproof elastic rubber sandwiched between two layers of alkali-resistant, non-woven polypropylene fabric.
Mapeband Easy is elastic and deformable and has a series of holes along the edges to improving wetting with the waterproofing product applied.
Mapeband Easy is used in combination with various waterproofing products, such as products from the Mapelastic range, Monolastic, Mapegum WPS and products from the Aquaflex Roof range.
Advantages
Highly elastic with the elongation at failure of more than 300%.
Easy to apply thanks also to the holes along the edges.
Thanks to the seamless outer layers of non-woven fabric, joints between different pieces of tape may be formed directly with the chosen waterproofing product.
Maybe coated with the chosen waterproofing product or with the adhesive used to bond floor or wall coverings.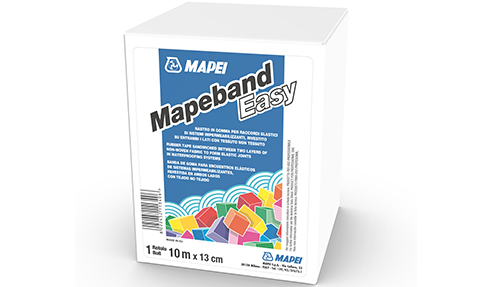 Recommendations
To form a perfect seal in corners and around edges, use the special, pre-formed 90° and 270° pieces from the Mapeband Easy range.
To form a perfect seal around pipework, use the special Mapeband Easy templates.
Application Procedure
Apply a coat of the chosen waterproofing product along the corners and edges and along the sides of the check joints to be waterproofed with Mapeband Easy. Apply the tape and make sure it is correctly positioned, with no folds, creases or air bubbles, and that the waterproofing product comes out through the holes along the edges of the tape.
When applying Mapeband Easy around contraction joints in screeds (on terraces, for example), the tape must be positioned so that it sits over the joint. Joints between different pieces of Mapeband Easy must be bonded with the chosen waterproofing product.
Once Mapeband Easy has been applied over and/or around all the joints the chosen waterproofing product may be applied. Apply the waterproofing product in a seamless layer over the Mapeband Easy, except when the waterproofed surface is to be coated with tiles, stone or mosaics. In such cases, apply the waterproofing product over the Mapeband Easy apart from the central part (marked out with a dotted line) so that the joint can be located; there must also be a joint in the same position in the floor or wall covering.
Discover more of the uses and benefits of Mapeband Easy for elastic waterproof joints by visiting www.mapei.com.