Fast-Grip Adhesive for High-Performance Applications by MAPEI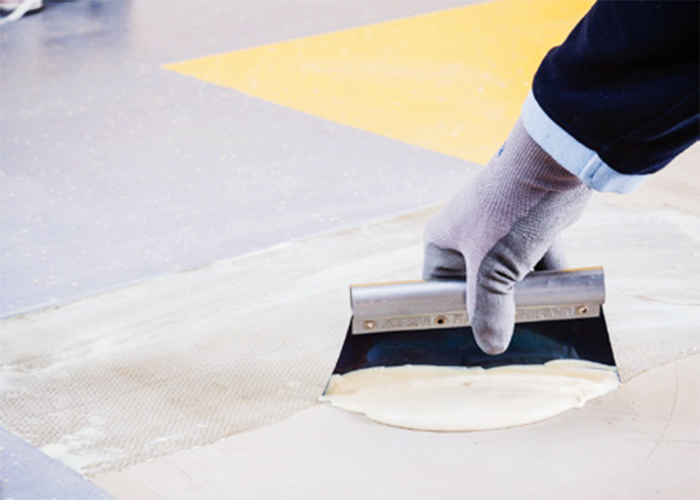 Ultrabond Eco Fast Track
Fast grip, high performance adhesive in water dispersion for quick renovation of resilient floor coverings and for installing skirtings, coves and profiles.
Where to Use
Use Ultrabond Eco Fast Track for the installation and renovation of resilient floorings which have to be ready to use in a very short time and for the installation of skirtings, profiles, coves and steps. For use on floors in interior applications.
Suitable on:
level and flat surfaces;
underfloor heating systems.
Some Application Examples
Use Ultrabond Eco Fast Track for the fast restoration of limited surfaces of:
homogeneous and heterogeneous PVC floor coverings, sheets and tiles;
CV floor coverings;
LVT floor coverings;
sheet and tile rubber floorings;
semi-flexible vinyl floor tiles coverings;
textile floor coverings with all common backings (latex-primed, PVC and polyurethane foam, natural jute and Action-Bac® backed carpets);
needlepunch woven floorings also in latex;
flocked floorings;
linoleum floorings;
polyolefin-based and chlorine-free floor coverings;
PUR floor coverings.
Technical Characteristics
Ultrabond Eco Fast Track is a synthetic resin-based adhesive in water dispersion formulated in a ready to use pale-beige paste, with a very fast initial grab and a high final bond strength.
Product properties:
very easy to apply;
very fast initial grab;
good peel and shear strength after a very short time from the installation of the floor covering;
let the floor coverings to be sealed or welded after a very short time (3 vs the 24 hours commonly recommended with traditional acrylic adhesives);
very good dimensional stability;
prevents open joints;
solvent free and APEO free;
non-flammable;
EMICODE EC1 (very low emission);
harmless to the health of the installer and the end-user.
For more information regarding Fast-Grip Adhesive for High-Performance Applications by MAPEI, visit www.mapei.com.