Hybrid Polyurethane Waterproofing Membrane from MAPEI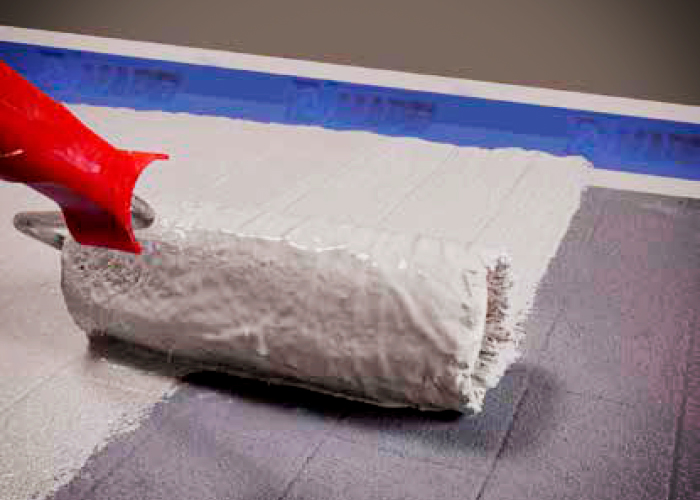 Aquaflex WPU
Ready-to-use quick drying and flexible Class III water-based hybrid polyurethane membrane for internal and external waterproofing applications.
Where to Use
Aquaflex WPU can be used on the following:
Concrete, screed, render and masonary surfaces, fibre cement sheeting, wet area rated plasterboard and timber sheeting.
For further information on suitable surfaces and substrates please contact Mapei Technical Services.
Some application examples:
Internal wet areas, bathrooms, laundries and other tiled areas;
Balconies, decks, podiums and terraces;
Roofs, as an exposed membrane finish (light pedestrian traffic). Parapets and external areas exposed to constant weather;
Roofs to be covered by screeds or toppings including tiles.
Advantages
Highly flexible and elastic;
Excellent adhesion;
Solvent free, non-hazardous;
Excellent UV / weather resistant properties;
Non re-emulsifying;
Resistant to algal growth.
Technical Characteristics
Aquaflex WPU is a versatile ready-to-use, solvent-free, single component, water-based hybrid polyurethane membrane. Aquaflex WPU has a thixotropic consistency that makes it easy to apply on horizontal and vertical surfaces for both interior and exterior applications.
Aquaflex WPU cures to form a highly flexible Class III membrane with excellent adhesion properties. Aquaflex WPU complies with AS4858:2004 and AS4654.1:2012. Aquaflex WPU cures to a tack-free finish and permits light pedestrian service traffic. Aquaflex WPU provides excellent direct adhesion with Mapei's range of tile adhesives.
The over 400% elongation of Aquaflex WPU enables it to withstand normal expansion and contraction movements of the substrate due to temperature variations and vibrations. Aquaflex WPU is resistant to limewater (pH> 12), water which contains mild chlorides and normal household detergents and cleaning products.
Recommendations
DO NOT apply Aquaflex WPU if the temperature is lower than +5°C or above +35°C.
Aquaflex WPU should always be applied with a stable or falling ambient temperature.
Always create sloping surfaces to drains where necessary to avoid the formation of water ponding.
DO NOT apply Aquaflex WPU on damp cementitious substrates without first priming with Planiseal MR.
DO NOT apply Aquaflex WPU on bitumen or asphalt membranes without firstly applying Primer for Aquaflex.
DO NOT use Aquaflex WPU to cover cracks.
DO NOT apply Aquaflex WPU on crumbly cementitious substrates, old floors which are not well bonded to the substrate or surface treatments which impede a good bond.
Aquaflex WPU is suitable for light service foot traffic however it must be protected from abrasion caused by heavier traffic by installing ceramic tiles or other forms of protection.
For more information regarding Hybrid Polyurethane Waterproofing Membrane from MAPEI, visit www.mapei.com/au.