Low VOC Deformable Cementitious Adhesive from MAPEI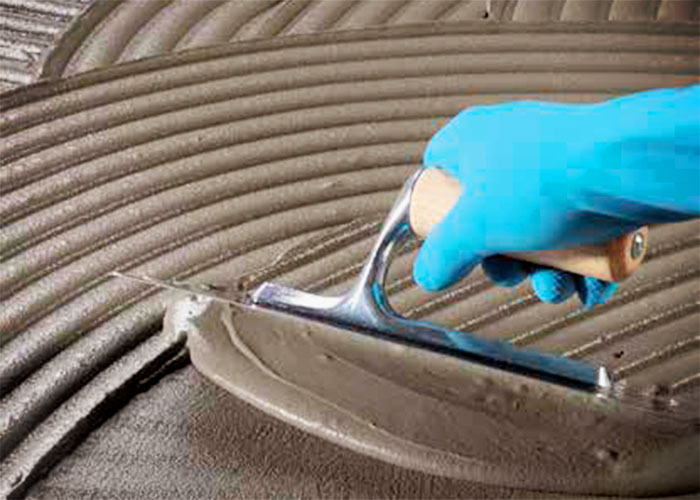 Keraflex Easy S1
High-performance, easy to apply, deformable cementitious adhesive with extended open time, high wetting capacity, and very low emission of volatile organic compounds. It is particularly recommended for bonding large-sized porcelain tiles over large areas of flooring.
Classification According to ISO 13007
Keraflex Easy S1 is a C2ES1 class cementitious (C), improved (2), extended open time (E), deformable (S1) adhesive.
Where to Use
Bonding all types and sizes of ceramic tile (porcelain, single-fired, terracotta, double-fired, klinker, etc.), stable stone material not subject to staining and all types of mosaic on internal and external surfaces. Specifically suited for large areas of flooring and large-sized tiles, particularly floors in commercial, industrial, and civil environments. Suitable for bonding on façades. May be applied in layers up to 10mm thick.
Some Application Examples
Bonding ceramic tiles (porcelain, single-fired, terracotta, double-fired, klinker, etc.), stone material stable in damp environments, and mosaic on the following types of substrate:

well cured, dry cementitious screeds and screeds made from special binders (such as Topcem and Mapecem);
heated floors;
sound, well cured concrete floors;
cementitious and lime/cement render on internal and external facades;
internal cellular cement block walls treated with Primer G;
dry gypsum and anhydrite treated with Primer G;
plasterboard fastened to a rigid support;
waterproofing membranes made from Mapegum WPS or Mapelastic range of products.

Spot-bonding insulating materials such as foam polyurethane, Rockwool, glass fibre wool, polystyrene, and cork soundproofing panels, etc.
Overlaying old floors with ceramic tiles, terrazzo, and stone material.
Bonding tiles in swimming pools and tanks.
Bonding on façades.
Bonding floors subjected to high stresses and intense traffic.
For more information regarding Low VOC Deformable Cementitious Adhesive from MAPEI, visit www.mapei.com.
07 3276 5000
180 Viking Drive, Wacol, Brisbane, QLD, 4076