Pre-blended Controlled Shrinkage Mortar for Screeds from MAPEI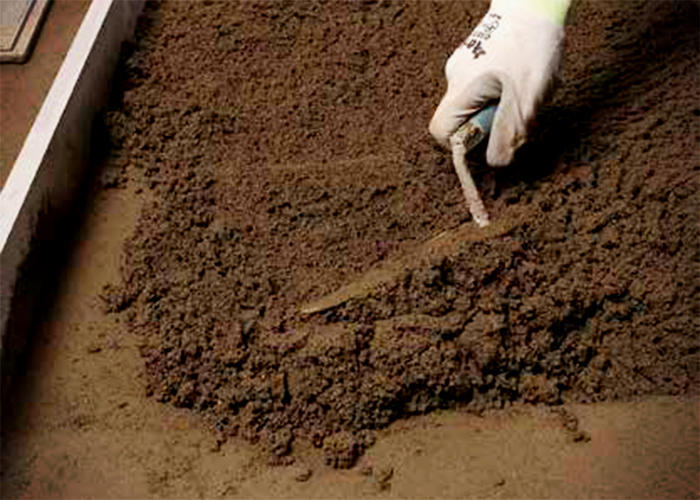 Mapecem Pronto
Pre-blended, ready-to-use, quick-setting, and drying (24 hours) controlled-shrinkage mortar for screeds.
Classification According to EN 13813
Screeds made using Mapecem Pronto according to the specifications in this Technical Data Sheet are classified as CT-C60-F10-A1fl in accordance with European Standard EN 13813.
Where to Use
Internal and external floating and bonded screeds on old and new floor slabs, for laying wood, PVC, linoleum, carpet, ceramic, natural stone and any other type of floor covering where quick drying is required for immediate laying of the floor covering.
Some Application Examples
Screeds ready for foot traffic after 2-3 hours, and dry after 24 hours.
Screeds on which it is possible to lay ceramic tiles after 3-4 hours.
Screeds on which it is possible to lay PVC, linoleum, wood and natural and artificial stone materials after only 24 hours (residual moisture lower than 2% with the carbide method, below 5.5% moisture content with electrical resistance and/or below 75% of R.H. as per ASTM-P2170).
Repairs and renovation of screeds in areas subject to continuous traffic (e.g. supermarkets, hospitals, airports, etc.).
Screeds incorporating heating systems, without adding plasticizers.
Technical Characteristics
Mapecem Pronto is a pre-blended, ready-to-use, quicksetting and drying, controlled-shrinkage mortar with a special hydraulic binder base, admixtures and selected aggregates to be mixed with water.
Mapecem Pronto is extremely easy to use, in that it is simply mixed with water. This means that human error due to incorrect dosage of the binder and choice of aggregates is avoided, which could compromise the final characteristics of the screed once it has set.
Mapecem Pronto is the ideal solution where finding good quality inert material of the correct grade is difficult, or in the case of installations in areas, such as historical town centres, where transportation and preparation of the blend with traditional binders becomes problematic.
Recommendations
Do not use Mapecem Pronto on screeds subject to rising damp (lay a vapour barrier).
Do not mix Mapecem Pronto with other binders (e.g. Mapecem, Topcem, cement, lime, gypsum, etc) or aggregates.
Mix Mapecem Pronto with the correct amount of water.
Do not add water and do not re-mix mortar prepared using Mapecem Pronto if it has already started to set.
Do not wet the surface of screeds made using Mapecem Pronto.
Blended Mapecem Pronto can not be transported as it is a fast set product.
For more information regarding Pre-blended Controlled Shrinkage Mortar for Screeds from MAPEI, visit www.mapei.com.