Vinylester Anchors for Structural Loads on Concrete from MAPEI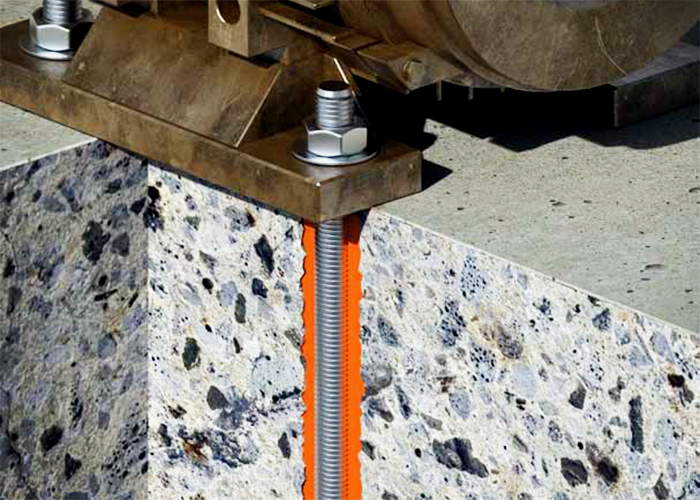 Mapefix VE SF
Chemical styrene-free vinylester anchor for structural loads and construction bars in concrete.
Where to Use
Mapefix VE SF is an adhesive for chemically anchoring metal bars in holes made in building materials. It is a two-component, styrene-free product made from a mixture of synthetic resins. It is specifically formulated for anchoring zinc-plated threaded and deformed steel bars which transmit structural loads in solid and perforated substrates such as non-cracked concrete, lightweight concrete, stone, wood, bricks and mixed masonry.
Specific also for anchoring metal bars in tension and compression zones in cracked and non-cracked concrete, including in areas at risk of seismic activity. It is also an ideal solution for anchoring close to edges or when there is a limited space between each anchor, as no stress generated as with conventional mechanical expansion fasteners.
Mapefix VE SF is recommended for immersed anchors which are permanently damp, in marine and industrial environments subjected to chemical aggression, areas where the temperature is as low as -10°C when the product is applied and for anchors with a horizontal, vertical, inclined or overhead axis; it may also be used on substrates which are damp or wet at the moment of application where there are high static or dynamic stresses.
Mapefix VE SF is recommended for anchoring elements in place, such as:
strengthening rods in construction joints;
immersed anchors and anchors in damp environments;
anchors in marine and industrial environments;
overhead crane and tram rails;
plant and sanitary equipment;
aerials and signs;
pylons;
safety barriers.
For more information regarding Vinylester Anchors for Structural Loads on Concrete from MAPEI, visit www.mapei.com.