Roller Blinds from Silent Gliss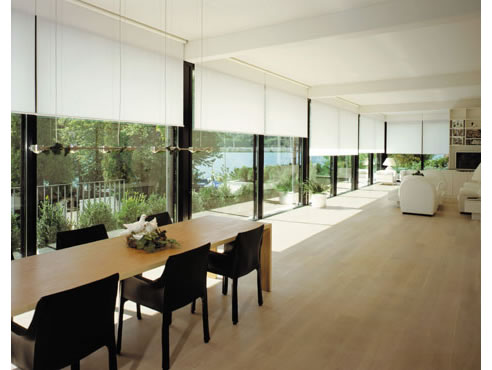 Of all window treatments Roller Blinds are the simplest to operate.
Their clean lines complement modern architecture and interior design perfectly. They allow maximum shading with minimum window obtrusion.
Attenuate light from translucent to blackout with your fabric choice.
The total reliability of Silent Gliss blinds means you can use them for almost all situations and sizes of installations - domestic or commercial.
Roller blind systems are very well suited for retail as well as project applications. Our already successful roller blind systems can now be applied for large glass facilities in order to improve our quality of life.
The Silent Gliss roller blind systems are composed of our already very successful transmission technique that allows a silent roll off, roll on of the fabric. The roller blind can be stopped at any desired height. The systems can be mounted to the ceiling, wall as well as recessed. An elegant metal chain operates the opening and closing of the systems 4210 / 4810 / 4840. The motorised system 4450 can be operated at the push of a button.