Acoustic Fence Panels from Poly-Tek Australia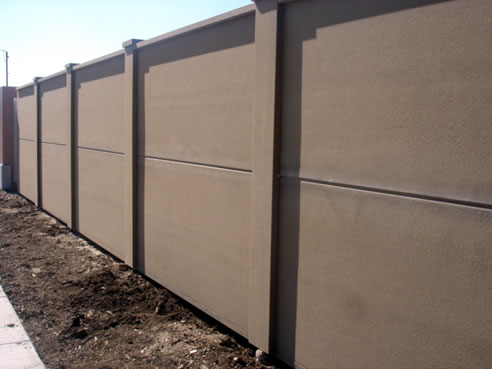 Poly-Tek Acoustic 'Render Look' Fencing
Poly-Tek has a range of Acoustic Fence panels to suit any situation and price point. The Poly-Tek panels can come with the aesthetics of a rendered block wall or can be purchased uncoated leaving you free to choose your finish.
There is no need for expensive strip footings saving considerable time for installation.
Whether it be a busy main road location, an estate perimeter fence a fence surrounding your factory or around a pool the Poly-Tek Acoustic fence makes the ideal choice at an affordable price point.
Poly-Tek's sandwich panels incorporate a patented acoustic core resulting in excellent RW values as well as providing the load and impact capabilities that are required in heavy use areas. Also add the new anti graffiti system from Graffitex and Poly-Tek becomes the one stop shop when a complete noise abatement system is required.
Please call 07 3715 6800 for further information or visit our website www.polytek.com.au to view our many other Pre Rendered building solutions.