FlameTek Non-Combustible Fencing from Poly-Tek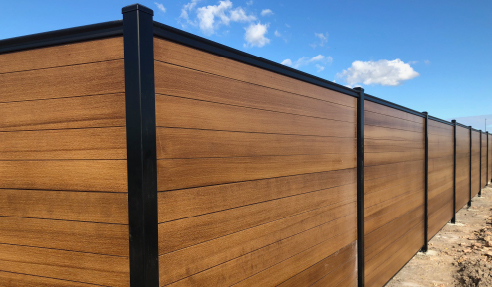 Poly-Tek FlameTek Non Combustible Fencing - Available in a Range of Pre-Finishes
Poly-Tek FlameTek fence system utilizes a noncombustible composite board and is suitable for use in residential and commercial fencing applications. Available in either a stained finish to provide timber aesthetics, a concrete style finish to give you that industrial chic look or a painted finish. These finishes are supplied 'in factory' so save you considerable time, expense and the need for additional trades on site.
Poly-Tek FlameTek Fence can be seen at Avid Property Group's, Harmony Estate, on the Sunshine Coast.
Not only does this fence tick the boxes for fire resistance and appearance but it also has great acoustic attenuation with a density of 20kgs m2.
Poly-Tek FlameTek boards are 16mm thick x 600mm H x 2700mm L making them lightweight and easy to handle. They are also asbestos and toxin free.
Who says fencing can't be sexy, FlameTek Fencing represents a great bang for your buck.
Why not consider FlameTek Fencing for your next development?
Visit www.polytek.com.au for more details.