Parcel Style Letterboxes for Online Deliveries from Poly-Tek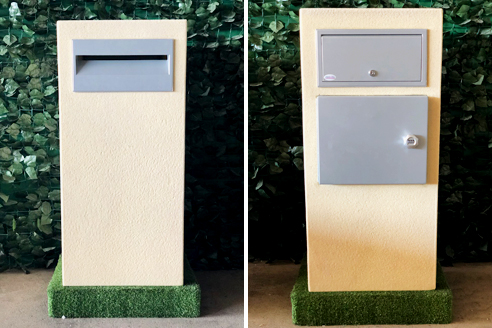 The Poly-Tek Key Largo Parcel Style Letterbox - an online shoppers dream!
With the growing trend of online shopping Poly-Tek is excited to bring to the market it's Parcel Style Letterbox. The Key Largo Parcel Letterbox is constructed in the same lightweight core material and durable render style coating as our other standard designs. It also has the same mail insert at the front and a rear lockable opening at the back.
The difference being the Key Largo Parcel Style features an additional separate and spacious, fully enclosed insert for your parcels with a combination lock which is concealed from street view for added security.
When placing your online shopping order simply advise your lock combination and the fact that the parcel insert is accessed from the rear of the Letterbox in the 'Delivery Instructions' part of the order checkout process. This will allow your Australia Post or courier delivery driver to understand how your secure mail box works.