Pre Rendered Insulated External Cladding from Poly-Tek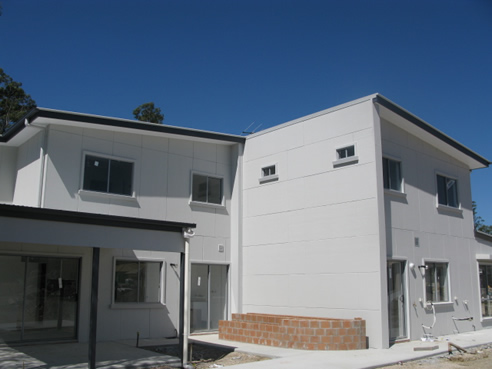 Poly-Tek Enviro Panels - Insulated & Pre Rendered External Cladding
With the upswing in the construction sector trades are again becoming scarce and in the case of bricklayers and renderers are holding builders to ransom price wise. This is where Poly-Tek come in. Poly-Tek Enviro Panels are a cladding product that is a cost and labor effective alternative to brick veneer.
Pre Coated in a durable render effect - ready for painting
Insulated with fantastic thermal properties (R Values)
Saves builders considerable time and money with expeditious build times - receive your progress payments faster
Engineer certified for Cyclonic and Non Cyclonic regions
Acoustic advantages, great for townhouse or aged care developments
Huge savings to homeowners with reduced energy costs
Poly-Tek Enviro Panels are a sandwich panel in nature and feature structural bracing ply to the rear of panel, an insulating EPS core and a Fibre Cement face.
There are 3 finish options available;
Pre 'Render Style' Textured suitable for a modern and architectural express joint appearance
Pre Render Style' Textured for using with Textured Cover strips or battens
Uncoated Recessed FC to allow for onsite setting and render to create a seamless render finish