Acoustic Fence with Photographic Print from Poly-Tek Australia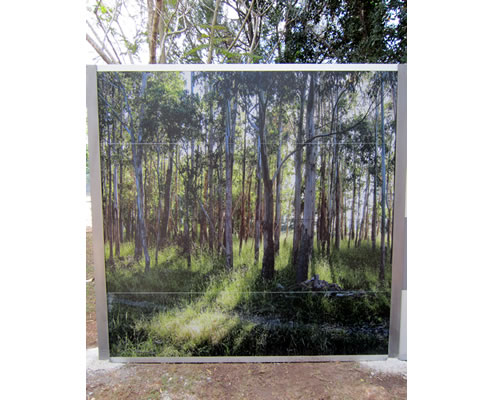 Poly-Tek Noise Barriers with Unlimited Print Options,
a 30 Yr Warranty and Full Anti Graffiti System
The finish options available on Poly-Tek's Commercial Acoustic fence range just keeps getting better and better. Imagine being able to add a print image to your acoustic fence of anything you desire.
Along road or rail side instead of unsightly deteriorated alternatives you could see a forest scene, native animals or crashing waves. On constructions sites, mining fences or shopping centre loading bays you could feature written advertising of your company name, Gov't funding/involvement or the project name.
As well as the print, the coating includes a full anti graffiti system and carries a 30 Year warranty. Graffiti is easily removed with a solvent based cleaner, no need to continuously paint over and in many instances graffiti artists wont tag over existing artwork of any kind as it is not artistically ethical to do so.
Poly-Tek MgO Acoustic Fencing is a very economical option compared with most fence types. The fact that we can install using 3m panel spans saves considerably on costs associated with posts and footings and there is no need for expensive cranes.
Poly-Tek MgO Noise Walls are available in the following options
Uncoated MgO - ready for paint
Render Effect Coated (applied 'in house'
Pre Painted with a 10 yr paint warranty
Pre Painted with a 30 yr paint warranty and Full Anti Graffiti System
Pre Printed with a 30 Yr Coating Warranty and Full Anti Graffiti System
For pleasing print aesthetics on your next commercial noise wall project consider Poly-Tek's MgO Sound Barriers.
RW 35 Acoustic Rating
Impact Tested
Wind Load Rated to Category D
TMR and QR Approved
Please call for further information or visit our website to view our many other Acoustic fence types and Pre Rendered building solutions.