Prefabricated Flooring Cassettes with PosiStrut from MiTek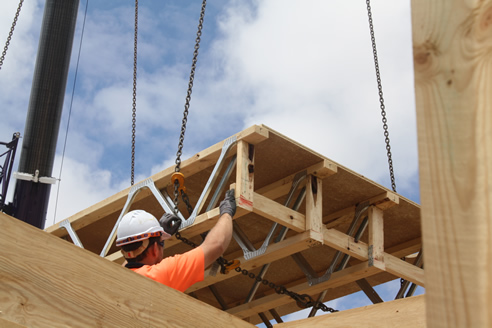 MiTek & Timbertruss floor customers with cassettes!
To say customers are 'impressed' with MiTek's latest prefabrication innovation (PosiStrut Flooring Cassettes) would be an understatement - they're floored! Many months have been spent perfecting the design and construction of flooring cassettes...incorporating the, already very successful, and well-established MiTek PosiStruts. 'We just thought they were the ideal product to make our flooring cassettes even more marketable,' said Adrian Robertson, Sales Manager at licensed MiTek fabricator, Timbertruss (A division of Bowens and Pomeroy)...a leading manufacturer of this innovative product.
So, what exactly is a PosiStrut Flooring Cassette and how does it come together. Without going into too much detail - Its taking what you do currently on site and building it in a factory. The floor is built to all the current specifications for deflections/reactions and acoustics. All the issues of plumbing locations, voids stacks, wastes and duct chases and recessed wet areas have been resolved at design stage to ensure you do not get any interferences when installing on site.
'We can 'top' the cassettes with just about any flooring surface,' said Adrian. 'Most opt for a particle board type flooring, but we can use a large range of products for wet and dry areas that are currently on the market. Adrian was very keen to promote the versatility of the end product and how nearly any flooring scenario could be accommodated. 'You can vary the spacing of the PosiStruts to accommodate service entry and/or exit points. Even the size of the PosiStruts can vary; large or small webbed PosiStruts work equally as well.'