Hip Girder Bracket from MiTek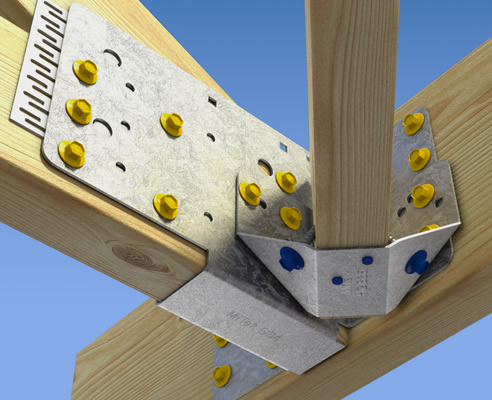 MiTek's Hip Girder Bracket assists in the fixing of a diagonal hip truss or hip rafter to a girder truss bottom chord in conjunction with a MiTek FastFit MkIII or MiTek FastFit MkIV Girder Bracket.
The Hip Girder Bracket can be fitted on either side of the Fast Fit Girder Brackets and does not have any screw heads protruding below the bottom chord level thereby avoiding any interference with the finishing of the plasterboard ceiling.
MiTek's Hip Girder Bracket is an Engineered Building Product. It has been designed and manufactured in accordance with ISO 9001 and meets all the requirements of the National Code Series and Australian Standards. Installation instructions, including product specifications can be found in the MiTek Girder Brackets data sheet. This can be accessed via the FREE, MiTek EasyCat App or downloaded from the MiTek website: mitek.com.au
REMEMBER: always specify and use Engineered Building Products.