Bearing Plate for Heavily Loaded Trusses from MiTek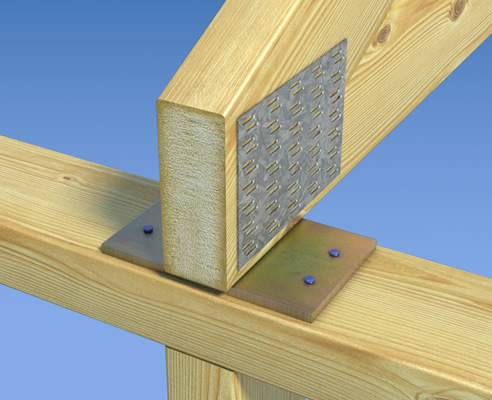 The MiTek BearingPlate improves the crushing resistance of wall plates under heavily loaded trusses. The positioning of a MiTek ConnectorPlate onto the bottom chord of the truss above the BearingPlate will also improve the crushing resistance of the bottom chord to match the wall plate. BearingPlates are simple to install and may be fitted before or after a truss is positioned. O
nly 4 (MiTek) nails are required for fixing. One size may be used for either 70mm or 90mm wall framing, and with either single or double trusses.
The MiTek BearingPlate is an Engineered Building Product. It has been designed and manufactured in accordance with ISO 9001 and meets all the requirements of the National Code Series and Australian Standards. Installation instructions, including product specifications can be found in the MiTek BearingPlate data sheet. This can be accessed via the FREE, MiTek EasyCat App or downloaded from the MiTek website: mitek.com.au
REMEMBER: always specify and use Engineered Building Products.