Trusses for Curved Timber Roof Prefabrication by MiTek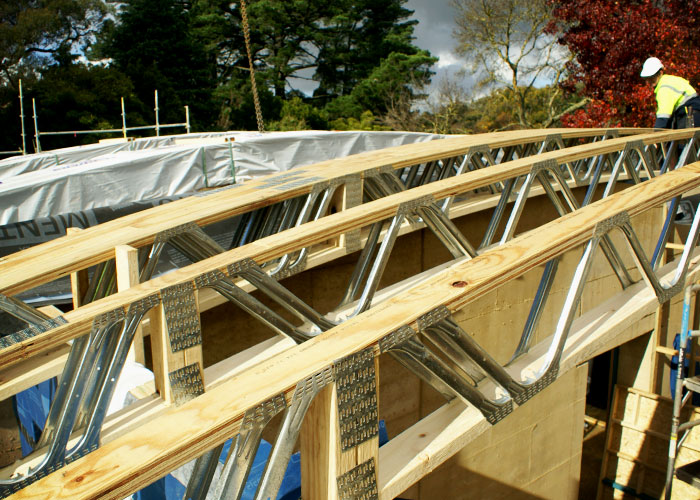 A timber prefabrication CURVE-BALL!
Everyone likes to be busy, but sometimes it's those more 'interesting' jobs that make work a bit more rewarding. So, when a customer throws you a curve ball, what do you do? Hit it out of the park. And that's exactly what Brook Chambers and his team did when asked to create a timber prefabricated, curved roof.
"I love a challenge - plus getting out of your comfort zone is a good thing - it keeps you on your toes," said Brook, Managing Director at FrameWayz Panelised Building, half an hour south of Adelaide's CBD. There were a few other hidden surprises in the structure too.
The owners of the new home knew a 'square-by-square' pop-up home wasn't what they wanted for their family - so they employed the services of well-known and respected local Building Designer, Merrin Kosters. Merrin is also Lecturer/Course Coordinator of Building Design at Tonsley TAFE.
"My students will all tell you the first thing they learn in my classes is: no boxes - no flat straight lines," she laughed. Before Merrin puts anything to paper she likes to really get to know her clients. With clients who build guitars and are devoted to their Japanese garden, Merrin knew that this design needed the 'movement' of beautiful curves.
"Research is the backbone/heart of every design. Innovative construction techniques and systems, and going to the site - looking at it from every perspective. Understanding how the structure will sit within the environment - yet still make a statement," added Merrin. "This design is proof that a home can be aesthetically pleasing, functional, and above-all-else leave a responsible footprint long after construction is completed. If a client doesn't have these same aspirations... I will convince them otherwise - it is sound environmental and financial good sense."
Merrin's involvement continues from day one, with design and material selections, through to construction. This can sometimes mean 'compromises' between Designer and Builder. "But we all wanted the same outcome - with the same holistic approach to the project. So, this 'passive house' needed the right team to help it come together."
There are few builders who specialise in these type of niche projects. 'Passive houses' are designed to use very little externally sourced energy to heat or cool the structure. They rely on air tight construction, insulation, clever design to maximise light, and the use of natural construction materials to further reduce the building's ecological footprint. Passive house structures utilise natural materials and mechanics to create a more 'liveable' environment.
"Jackson Digney, from Enduro Builders had been assisting with the specification for this home incorporating large curved ceilings and open spaces. When he said he wanted a timber solution, the challenge was on," exclaimed Brook.
Jackson is a builder by trade but an innovator by passion.
"Yes, we do the normal - but it's the out-of-the-ordinary where we excel," said Jackson proudly. "Passive housing is science-based, so data projections and outcomes play a big part in the way a building is designed, what materials are used, and how it is built."
Jackson adds, "we can look at a design, assess its attributes and deficiencies, and, through data analysis, produce better outcomes. Make this higher, turn this that way, use solid structure not glass; can all make a huge difference."
"We knew steel would never be an option for this job," stressed Jackson. "It has way too much environmental baggage - and the issues with thermal bridging cannot be ignored. Steel is expensive and irresponsible on so many levels. Timber is a renewable resource that rewards the planet with regrowth assets - and the advances in timber engineering make it an affordable solution to complex designs."
Being a licensed MiTek fabricator, Brook recalled instances where PosiStrut Trusses had been used on similar jobs.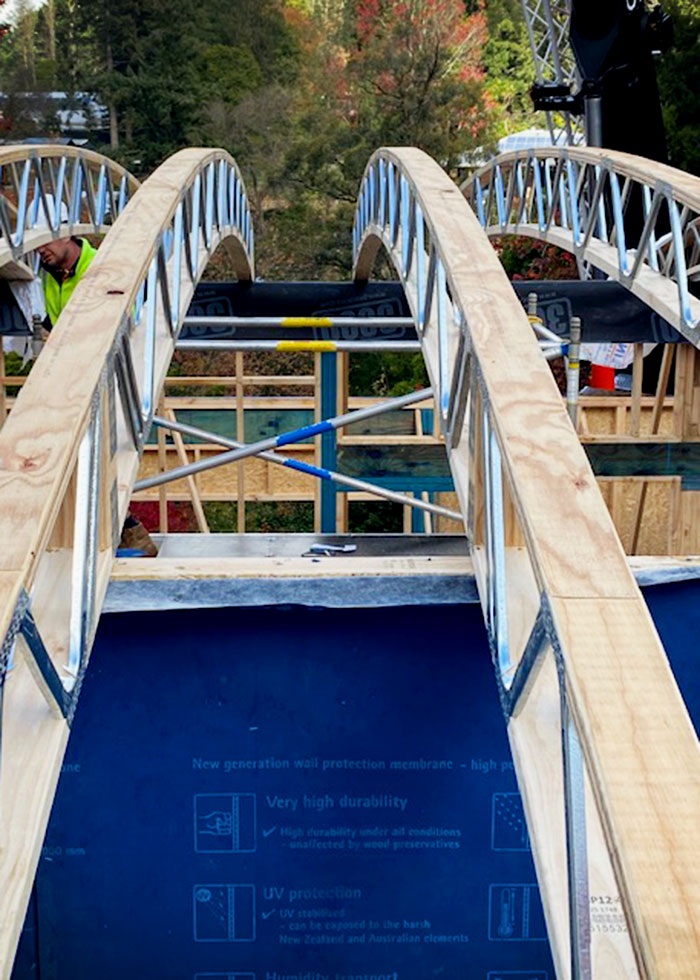 "I'd read a few articles, and although we had never tried to bend PosiStrut Trusses before, I had faith in our skilled staff to meet-the-brief. Most of our fabricators are chippies... so bring a lot of experience to the job," said Brook. "Brett Bolden, MiTek State Engineering Manager, was also invaluable as he provided us with a manual specifically created for instructions and ongoing technical and engineering support."
All of the detailing, estimating, and engineering was done with MiTek's Sapphire™ program - a great advantage for such a complex job.
"Cathy Fraser, MiTek SA State Manager, first introduced us to Sapphire™ a few years ago and has helped us with numerous projects as we became more proficient with it," said Brook. "Looking back - I'm not sure how we would have prefabricated a job like this before using Sapphire™."
The whole house was curved with 302mm PosiStrut Trusses. The span had to be broken into manageable sizes with the longest being approx. 10.6m long with an impressive 4.5m at the apex. The start and finish heights of the curve were different and it had large overhangs, up to 2m, that created a 'curved-down' roof line.
"We knew there would be a certain amount of learn-as-you-go with the prefabrication of the trusses - and that certainly was the case," revealed Brook. "Our truss table was big enough to accommodate the 10.6m span... just. We had to make some special jigs to create a framework to bend the timber to the exact curve required. Plus, the jigs had to hold everything in place after the 'V-shaped' Posi webs and other connector plates at both ends were pressed."
All looked promising until the curved truss was pressed. The combination of forces on the timber was too great - and the timber chords sheared away. Some clever thinking needed to be done.
"For the first few passes we were using MGP12 pine for both the top and bottom chords. We tried wetting the timber to give it more flexibility," admitted Brook. "Alas, still no joy! Then the epiphany - the moment of inspiration: Wesbeam e-beam + LVL had just been added and approved in the Mitek Software for floor truss use, and maybe the engineers could make that work for the top chords that were causing us the problem. Brett from Mitek worked overnight to re-engineer the trusses and after a quick test the next day we were back on track. LVL is a lot stronger and still answers the 'make-it-in-timber' brief," stressed Brook.
The rest was history. "The combination of the two worked perfectly and we were able to prefabricate one after another relatively easy - all to the same span, same Apex."
Creating the prefabricated curved walls, raked at the top plate presented more challenges - with a few less headaches.
"Brett's input and MiTek's Sapphire™ Software Program made all the difference here," said Brook. Consistency and accuracy were always going to be the main issues. "Bang-on - absolutely perfect," exclaimed Brook. So, as all involved in the prefabrication process were concerned: this project was a win for everyone.
But, wait - what about the client?
"I was on-site when the curved Posis arrived. I couldn't help myself and went up on the scaffolding lift to inspect the installation," said Jackson. "I have to admit - never using this method before - there were a few butterflies, but all I saw was a unison of perfectly prefabricated roof trusses with an apex off-the-chart... all lining up like soldiers in a row."
Jackson loves his relationship with MiTek Licensed Fabricator, FrameWayz Panelised Building. Brook and his team have been their fabrication suppliers of choice for 2 years.
"They are my go-to-guys for everything. They have the same work ethic as me. They think the same as me (a bit out of the square). They create solutions out of problems."
Merrin was also equally impressed with the prefabricated solution.
"It's amazing the way they could engineer such an innovative solution to create this result. I already have two more challenging jobs in mind that are perfectly suited to using curved PosiStrut Trusses," she added, smiling.