Girder Brackets - FastFit MkIII & FastFit MkIV from MiTek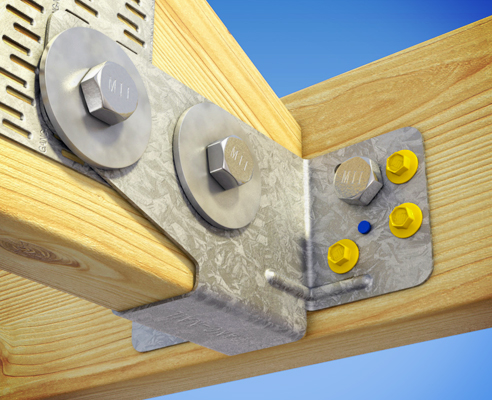 MiTek FastFit MkIII & FastFit MkIV Girder Brackets are compact brackets that fix trusses to the bottom chord of girder trusses or to the face of beams. They include a tab to locate the bracket, which also reduces rotation of the supporting member.
MiTek's FastFit MkIII Cyclonic Girder Bracket is used to fix a standard truss to a girder truss and is available with an optional locator and anti-rotation tab. It is also able to accommodate scissor trusses with a bottom chord pitch up to 20 degrees. FastFit MkIII brackets can be installed with either M12 bolts or MiTek anti-split self-drilling screws for speedy installation. With the addition of washers and supplementary screws, they are suitable to restrain large uplift loads experienced in cyclonic areas.