PGH Bricks Provide Visual Continuity for UQ Women's College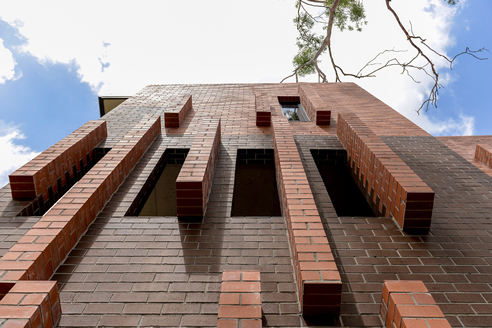 PGH bricks provide visual continuity to building addition at UQ Women's College
A range of bricks from PGH Bricks & Pavers was used to maintain visual continuity when building an addition to the Women's College at The University of Queensland (UQ). The Women's College is a residential college within the University of Queensland's St Lucia campus.
Designed by architecture firm Architectus Brisbane and built by McNab Constructions, the new Centenary Wing and Head of College Residence at the Women's College were added to provide accommodation for an additional 50 students and one family. The design intent was to create an addition to the college that provided visual continuity of building form and materiality.
Bricklayer Total Blox installed Terracotta (Smooth), Flame Red (Smooth) and Chocolate bricks in the new building.
The existing buildings of the Women's College are strong, rigid and rhythmic with a characteristic red brick material quality; the existing brick blades also extrude into the landscape. To ensure the new Centenary Wing embodied these qualities as well as to create consistency, brick blades were again used, protruding from between dormitories to generate shade from the summer sun as well as provide visual and acoustic privacy for residents.

13 15 79
NSW: 75 Townson Road, Schofields, NSW, 2762
QLD: Gate 1, Kimberley Street, Oxley, QLD, 4075
VIC:191 George Street, Wantirna South, VIC, 3152