Red Bricks for City University from PGH Bricks & Pavers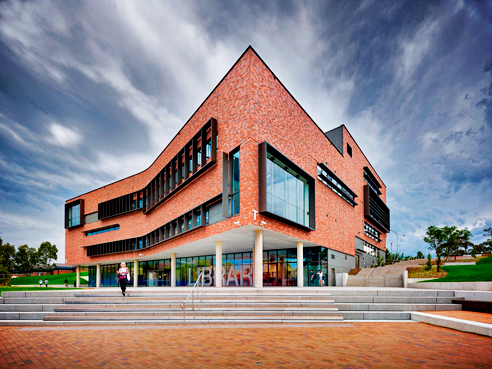 Red bricks from PGH maintain visual consistency at Western Sydney University Library.
Bricks in red tones from PGH Bricks & Pavers were specified for the Western Sydney University, John Phillips Library, Penrith (Kingswood) campus in Sydney, NSW to maintain visual consistency.
A Finalist in the 2015 Think Brick Horbury Hunt Commercial Award, the Library was designed by Alan Jack + Cottier (AJ+C) and built by Taylor Construction Group Pty Ltd. Consolidating the library facilities at two of Penrith's campuses into one new building, the new red brick structure also accommodates centralised administrative services from five other campus libraries.
The design brief sought to create an efficient, modern, state-of-the art library, and an inspiring and user-friendly research, learning and study centre. Since the campus buildings were built in red brick, the brief required red bricks for the new Library to maintain visual consistency. However, AJ+C chose a series of bricks predominantly with red tones to provide texture and complexity.

13 15 79
NSW: 75 Townson Road, Schofields, NSW, 2762
QLD: Gate 1, Kimberley Street, Oxley, QLD, 4075
VIC:191 George Street, Wantirna South, VIC, 3152