Vibrant Coloured Glazed Bricks from PGH Bricks & Pavers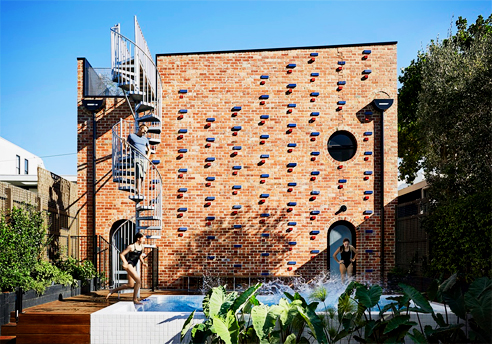 Brickface
Recycled and contrasting glazed bricks introduce light, shadow and unique character.
Project Details
Location: Richmond, Melbourne.
Architect/Building Designer: Austin Maynard Architects.
Builder: TCM Building Group.
Category: Residential.
Project Name: Brickface.
Bricks Used: Rhapsody, and Watermelon.
Brickface is a compact building situated at the rear of an existing house in Richmond, Melbourne, reimagined into a home fit for all. It consists of a garage at ground level, a studio/guest bedroom on the first floor, and a roof deck (which doubles as a productive garden space). The main living area in the existing house faces south and opens up onto the new terrace and pool, where the view is to the rising high wall of Brickface.

13 15 79
NSW: 75 Townson Road, Schofields, NSW, 2762
QLD: Gate 1, Kimberley Street, Oxley, QLD, 4075
VIC:191 George Street, Wantirna South, VIC, 3152