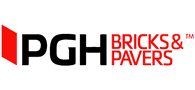 Company Profile
PGH Bricks & Pavers is one of Australia's largest clay brick manufacturers. Wholly owned by CSR Limited, following an 18-month joint venture with Boral which combined the two companies' brick operations and expertise, PGH Bricks & Pavers provides the broadest range of bricks and pavers for residential, architectural and commercial applications on Australia's East coast. With an ever evolving offering that includes timeless Dry Pressed, stylish Smooth, reflective Metallic and vibrant Glazed collections, as well as the innovative Cultured Stone® by Boral® cladding range, let PGH Bricks & Pavers partner with you on your next project.

Visit our website pghbricks.com.au to view our extensive range and be inspired by the amazing things you can achieve with PGH bricks. Download product & technical information, case studies, photos & colour swatches.

PGH Bricks & Pavers
13 15 79
NSW: 75 Townson Road, Schofields, NSW, 2762
QLD: Gate 1, Kimberley Street, Oxley, QLD, 4075
VIC:191 George Street, Wantirna South, VIC, 3152
* If you would like to update the text on your profile page, please contact Spec-Net.