Erapol EMD Series - High performance MDI elastomers from Era Polymers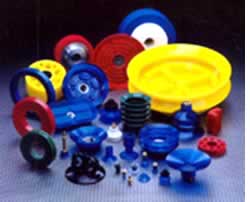 The Erapol EMD Series is a range of polyether based prepolymers intended to be reacted with 1,4-butanediol to produce high performance polyurethane elastomers in the hardness range of 85 Shore A up to 52 Shore D.
The Erapol EMD Series has some clear performance advantages over some of the more traditional high performance polyurethane elastomers. The elastomers exhibit excellent physical properties, including good tensile strengths, high resilience and excellent wear characteristics, as well as outstanding hydrolytic stability.
There are also clear advantages in terms of processing, including low viscosity at processing temperatures and lower chemical hazards when handling the prepolymers and curatives.
Applications: The Erapol EMD Series are ideally suited to machine dispensing, especially where large mouldings are required, but can equally be used for hand casting applications.
Typical uses: Wheels and rollers (particularly skate wheels), seals, gaskets, bushes, linings and marine products.